A practice run for Cape to Cape
Etive Road, Glencoe
Time started to slow as we sunk into the Scottish Highlands. Easing our way back into a life on the road, Etive Road near Glencoe pinpointed a trusty camping spot in the area. Studying me for a while, as if I was an artwork with a hidden meaning, there I made eye contact with a pine marten scurrying up the grassy bank.
While Glencoe never failed to disappoint, Jason's dismay was palpable as he missed the weasel-like, bushy-tailed little fella. The red deer vied for his attention elsewhere.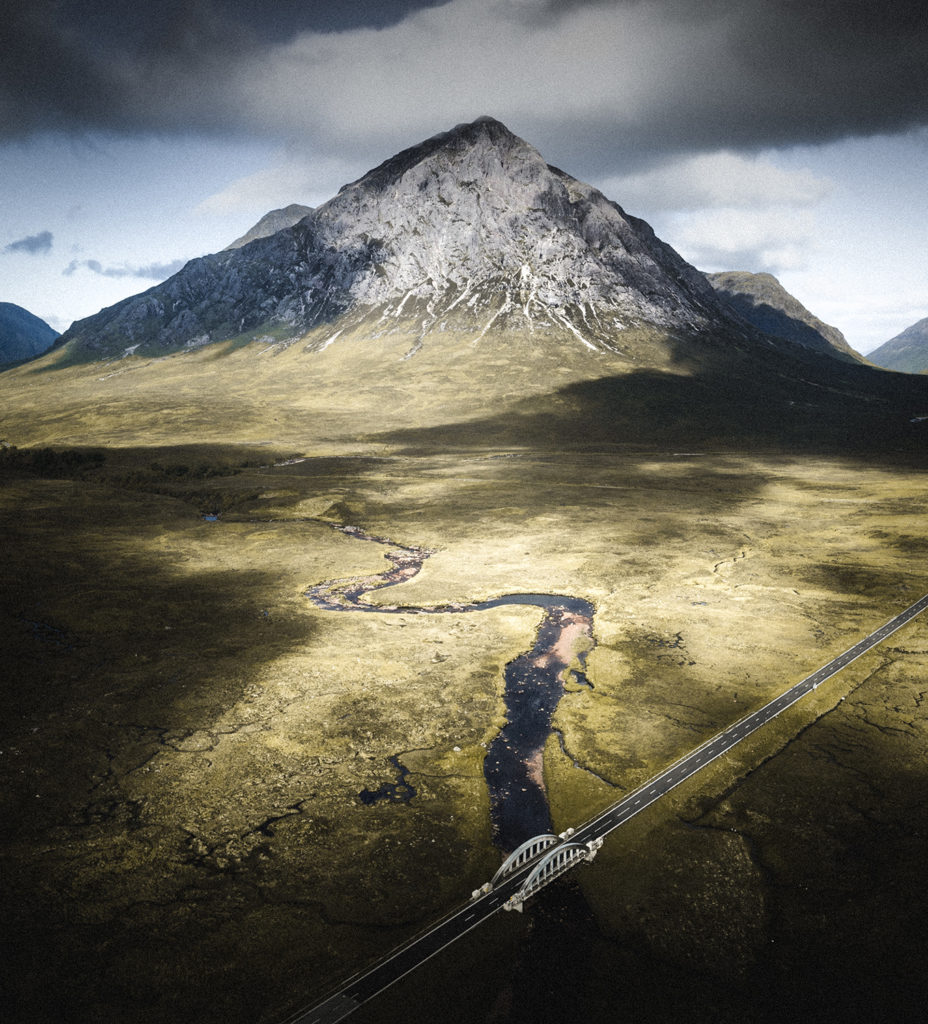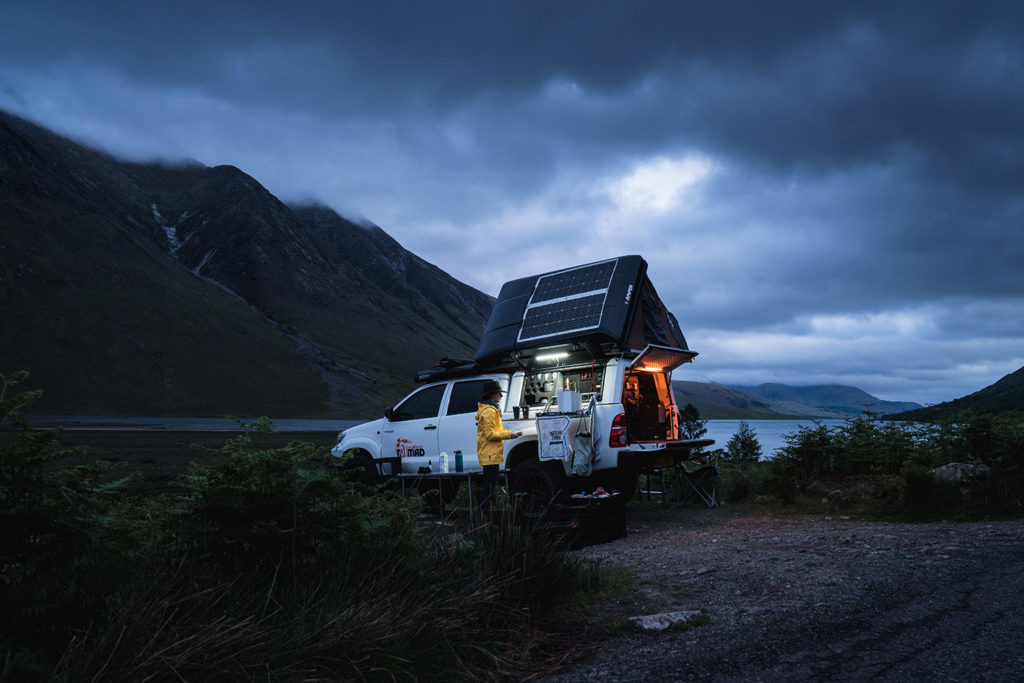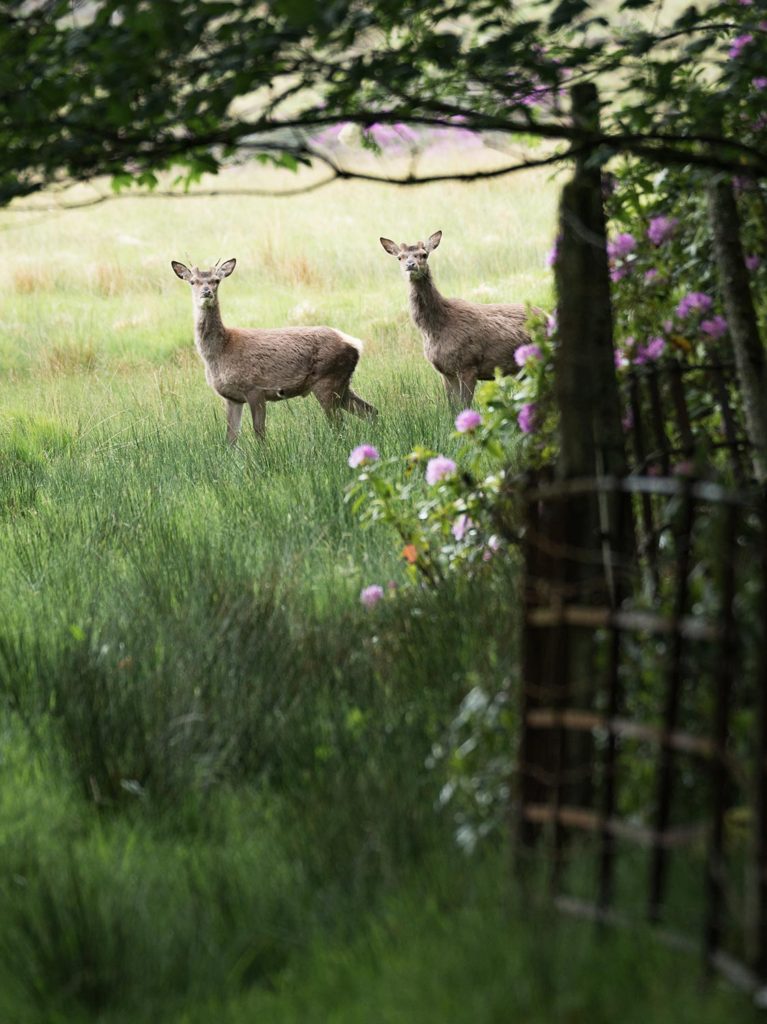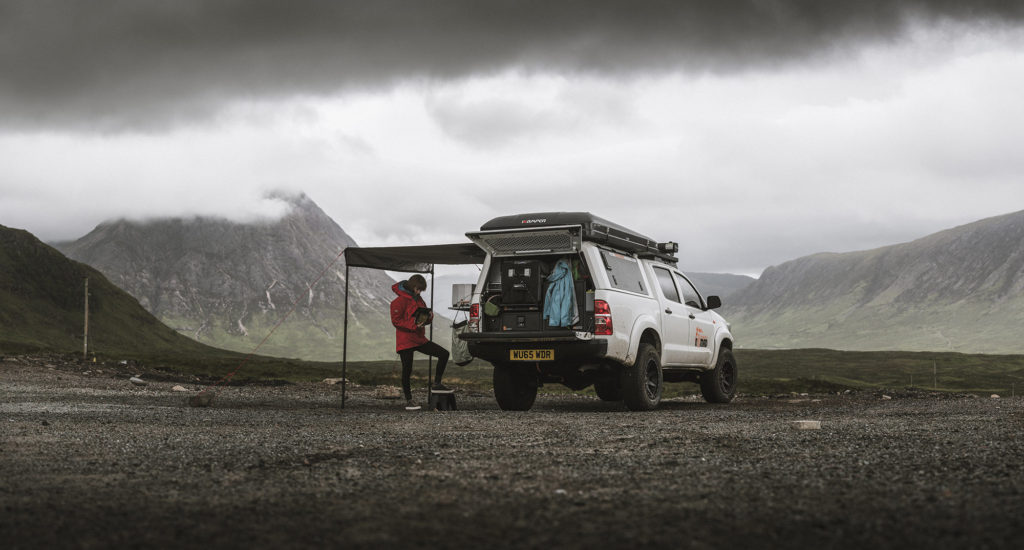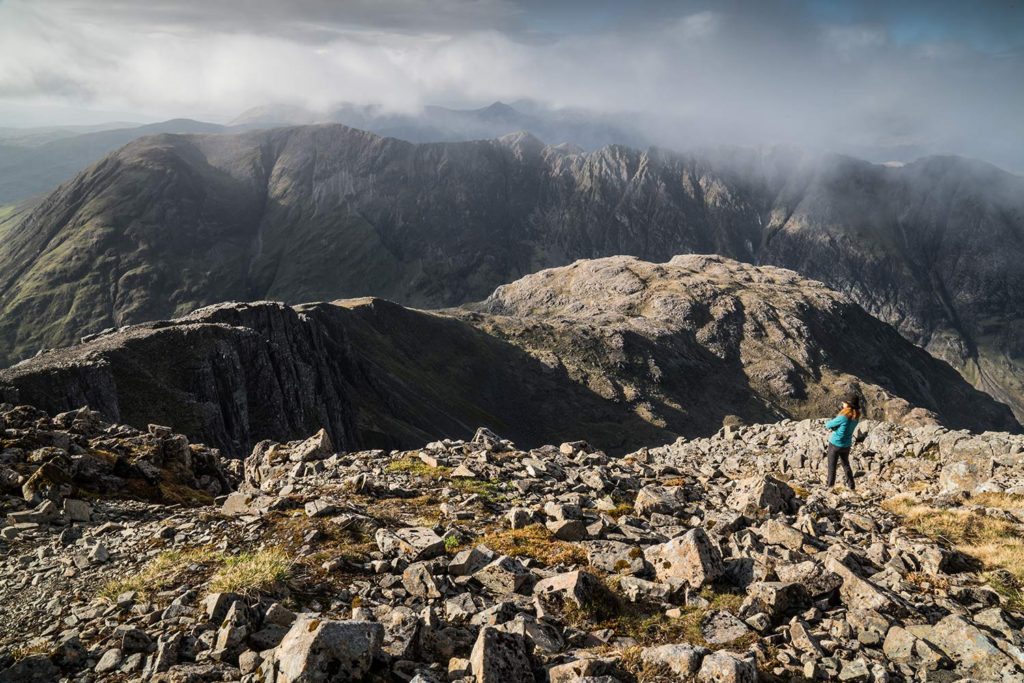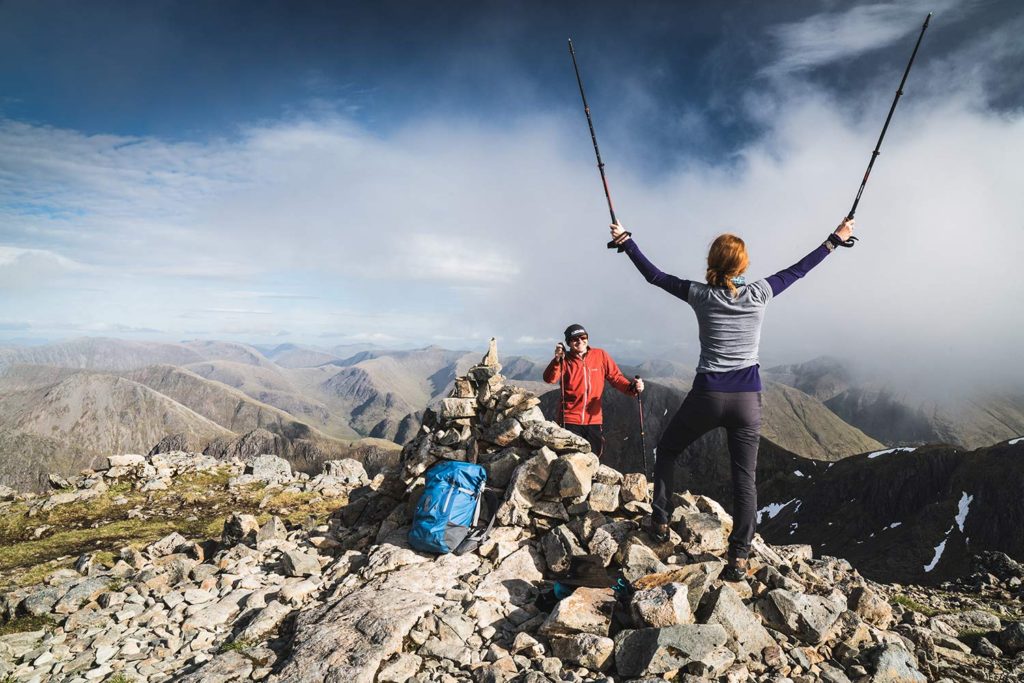 The onset of summer notwithstanding, Mother Nature had other ideas. Single digit temperatures by day, gusting winds and lashings of rain ensued at all hours. The elements hurled down on us, but it was an apt combination to put the rooftop tent through its paces. Even the locals agreed that for the time of year, June's climate was unseasonably rude in the Highlands.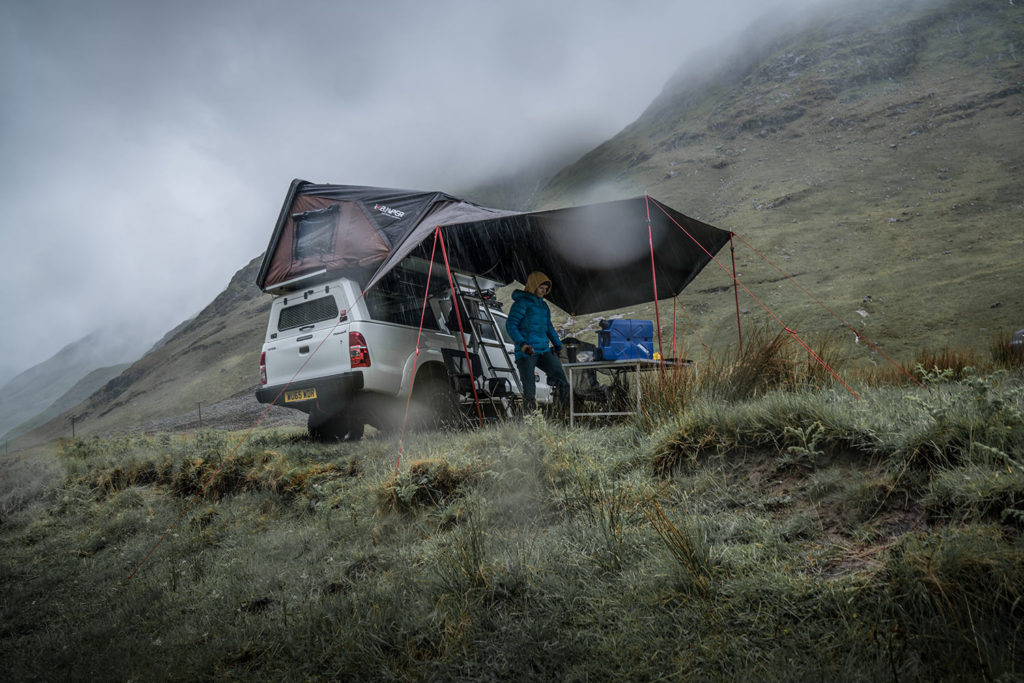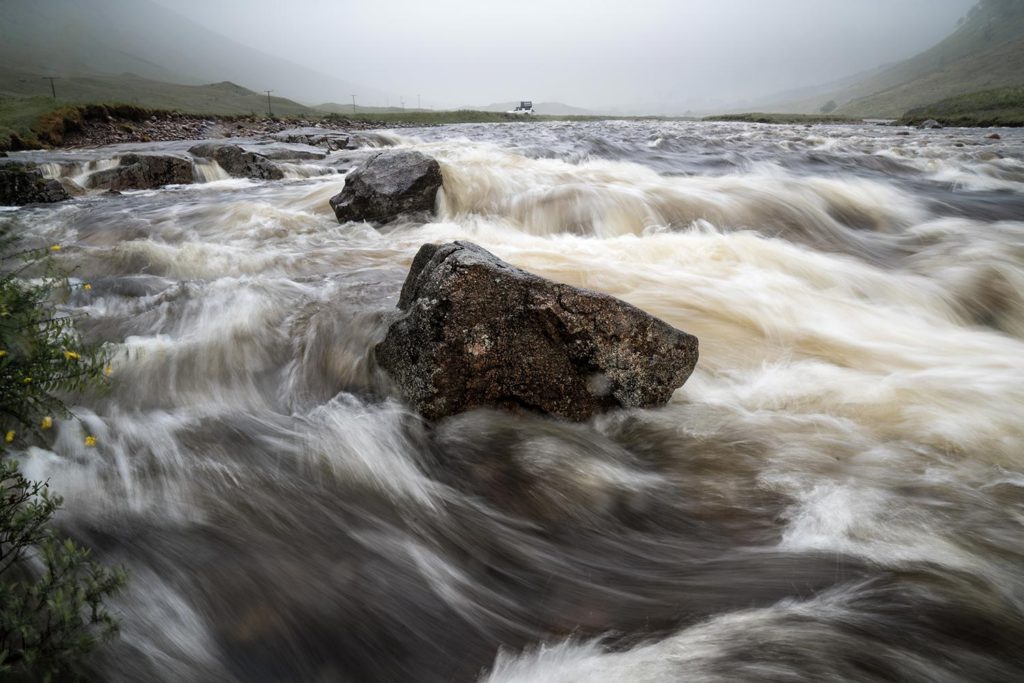 Stealing the odd moment of respite when the wind dropped and light grew thin, the mosquitoes came out of hiding – thirsty for their dinner. On a couple of days, the elements gave rise to a lonely quality, the kind of loneliness that howls through you like a desert wind. But in this case, it was more like a Scottish "hooley" blowing like no other.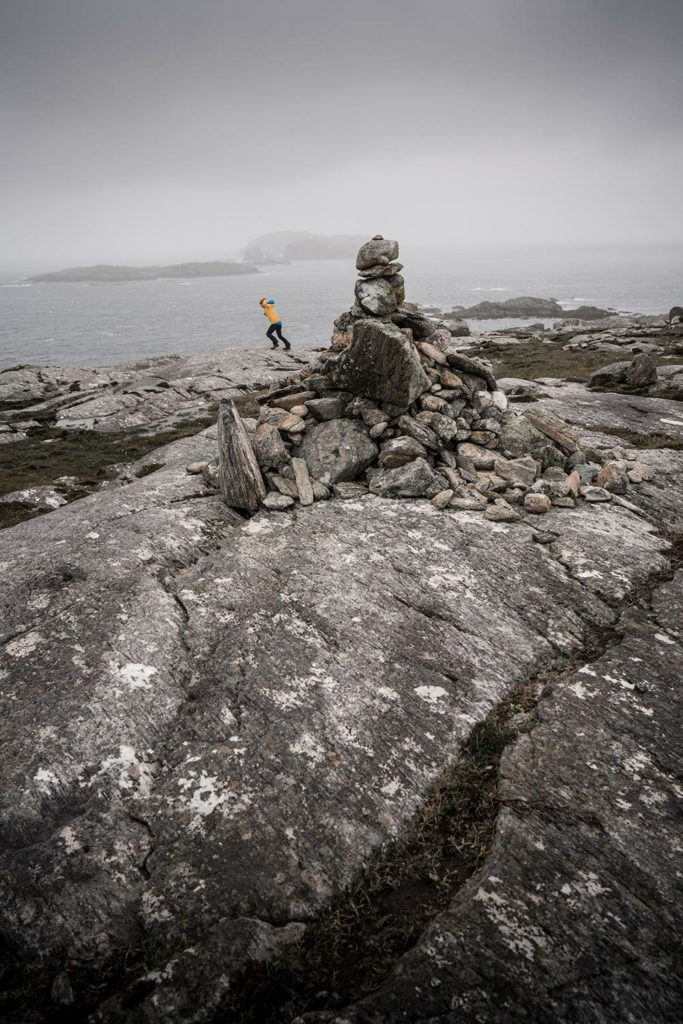 At times, the place only seemed half there because of the descending fog, as if I was walking inside one of Monet's fuzzy depictions. First thing, the mist's touch slipped like wet tentacles over my skin, and seeped dampness into just about everything.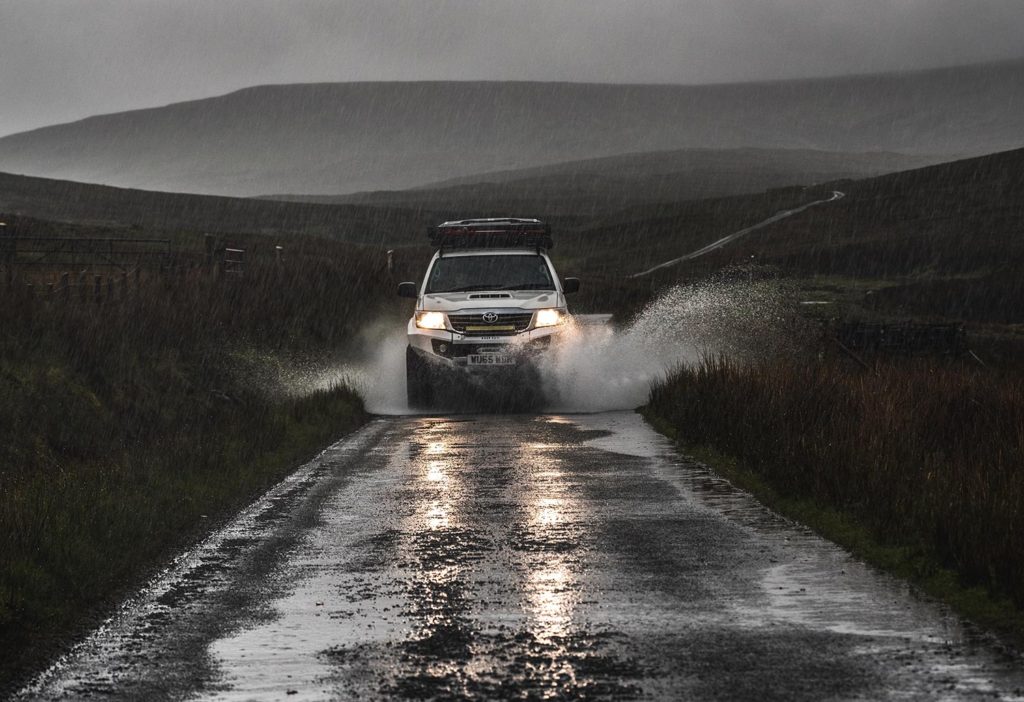 Birthday on the beach
Failing to curry favour with Mother Nature, we made like Highland sheep and got the flock out of there. Without delay, we scooted down to a fairytale woodland to meet up with friends, Chris and Lou. Sunshine presiding over all else, the order of everyday took a natural course: to equal if not surpass the previous night's wild camping spot. Pretty much managing our daily objective led us to Applecross where we celebrated Chris' birthday. Breakfast overlooking the waves gently lapping on the shoreline was part of the present.
Scotland's parting gift to Chris took on the long legged shape and high-pitched ring of its infamous bloodsuckers. The Mozzies Menu del Dia served up quite the platter – courtesy of his face. Skin colonized like a map of territories, they left a complex dot-to-dot. The simple, elemental truth: Chris was a walking buffet. Impossible to satiate, they stayed to feast.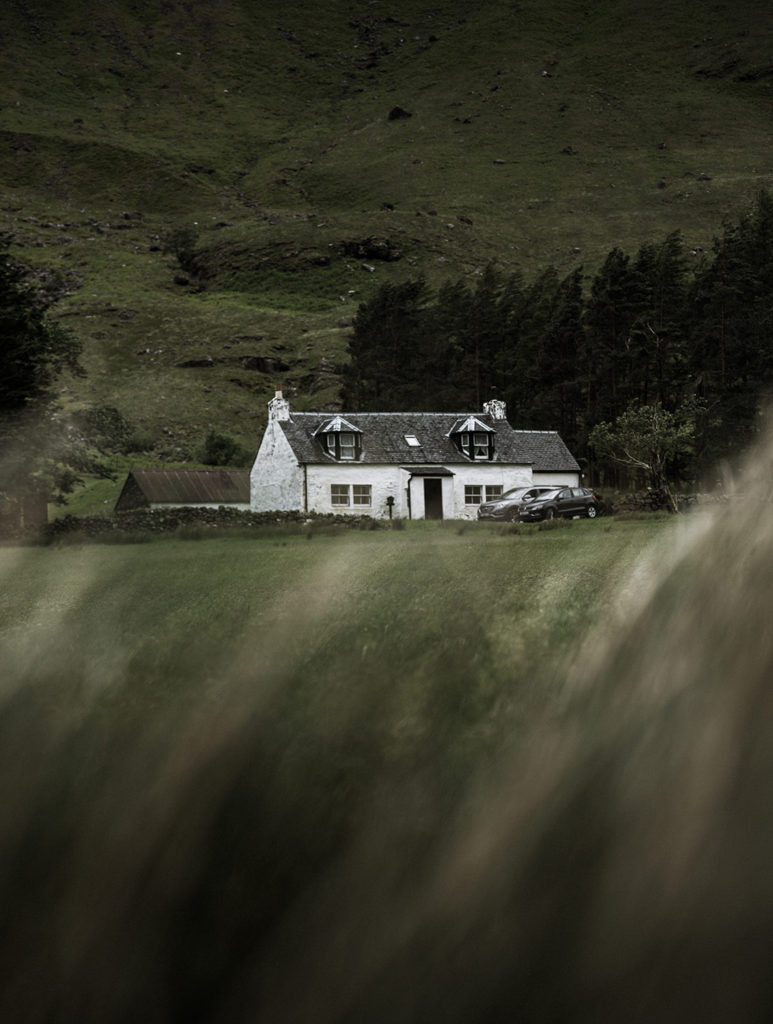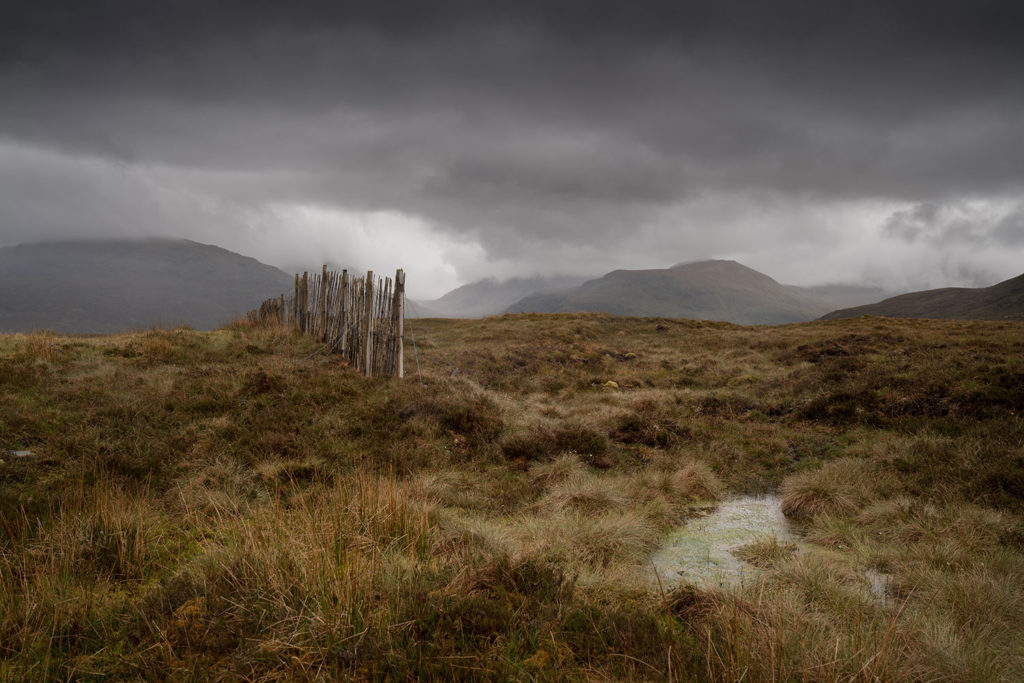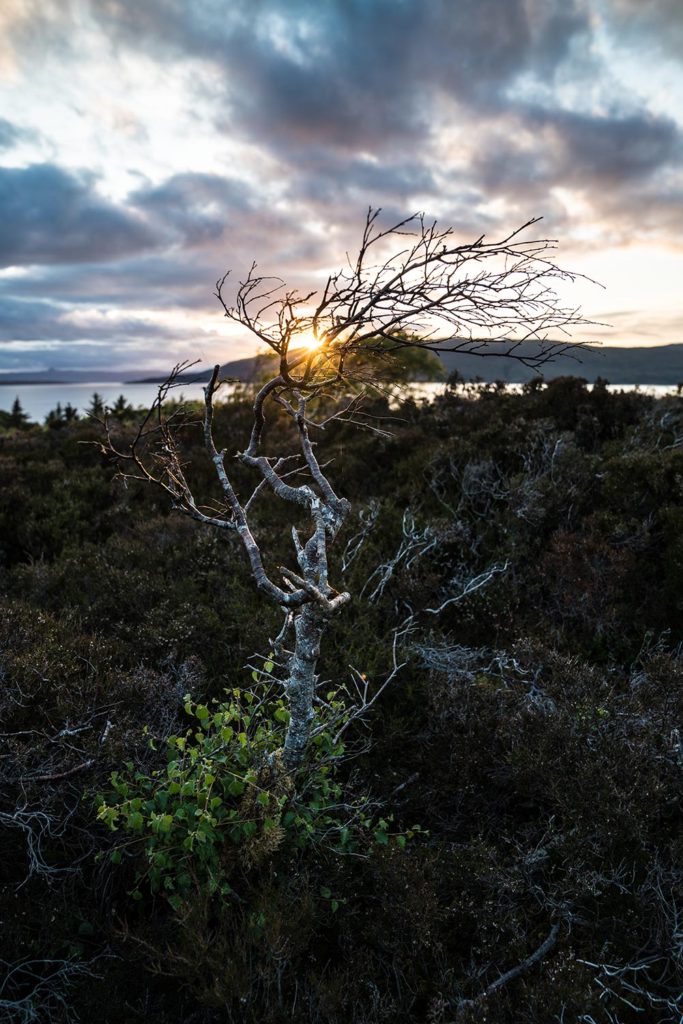 After a fond exchange of farewells, we wended our way to Achiltibuie. Between a nearby white sandy beach and us lay a loose, stony bank. It took a moment for Jason to grow the plums to climb the truck over the pebbles onto the soft white expanse of sand. In the passenger seat, I kept my confidence in a citadel, high on a hillside as Jason tested the truck's ability to traverse us over loose rocks.
No big deal for White Rhino, just a day at the beach – even if we promptly retreated to whence we'd come moments after hitting the sand. Certainly, the pair of us might need to grow a bigger set if we're to tackle what's coming between Cape to Cape.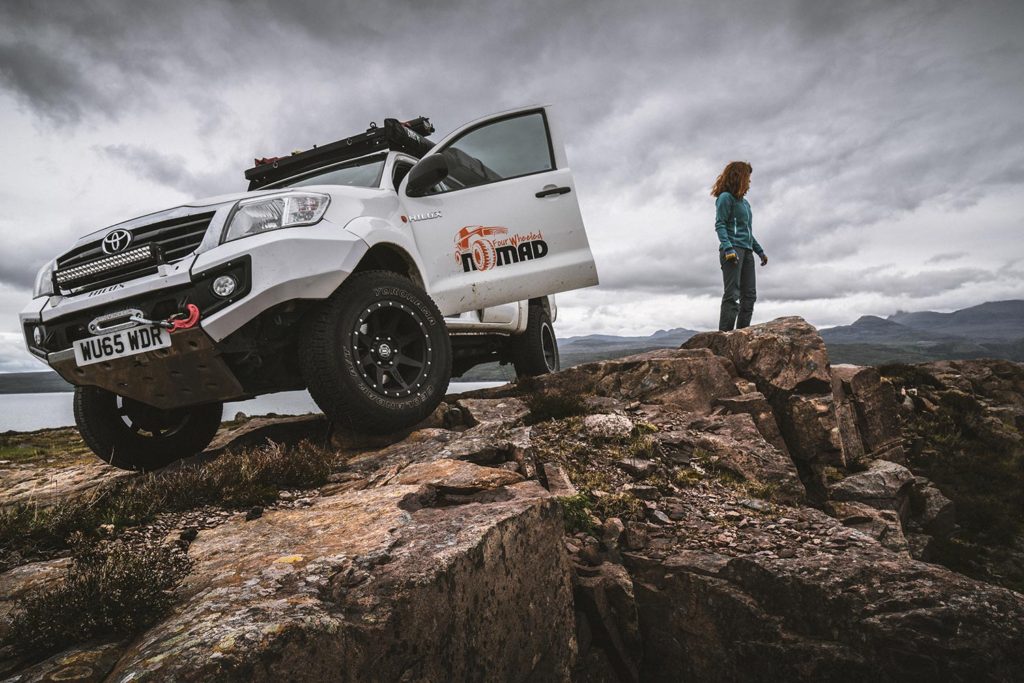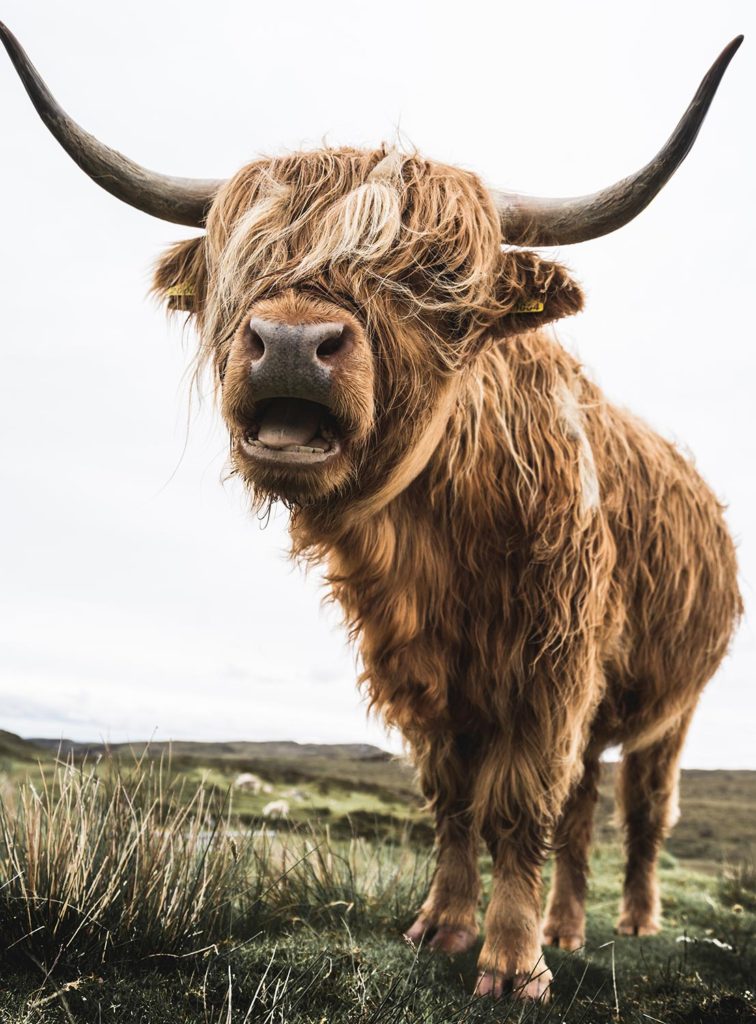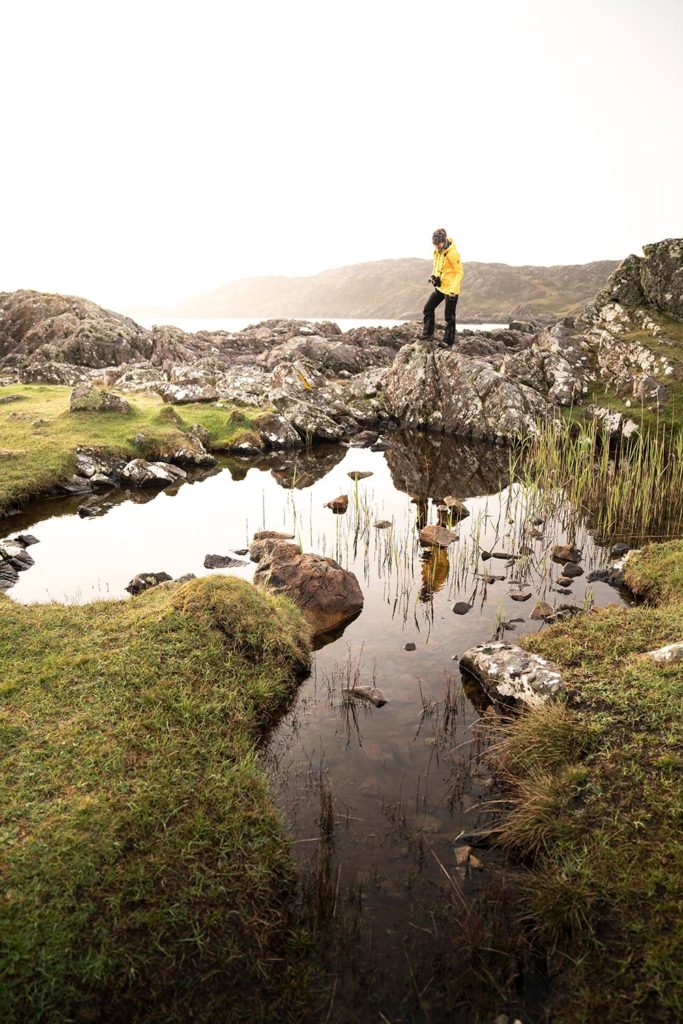 Thank heavens, the weather wiped the slate clean and took on a newfound calm at Scourie.
Outer Hebrides
The Outer Hebrides has never left my bucket list. I'd read about it being a wildlife wonderland, archeologist's paradise and historian's dream. On Barra, for example, you can see the world's only airport where planes land on the sands, meaning the timetable is dictated by the tides. How unique.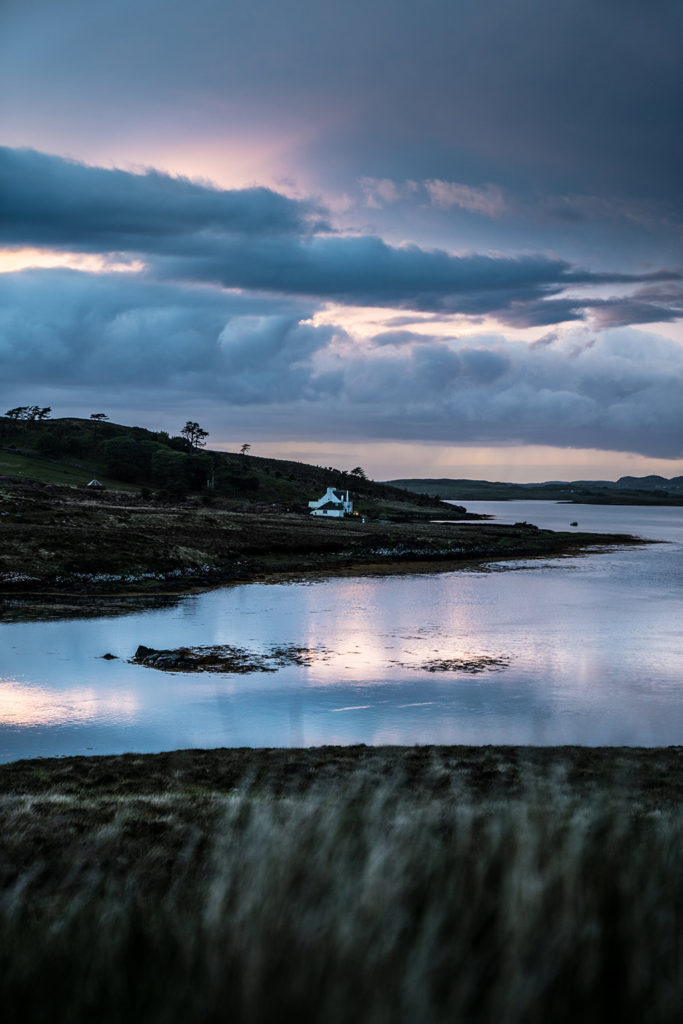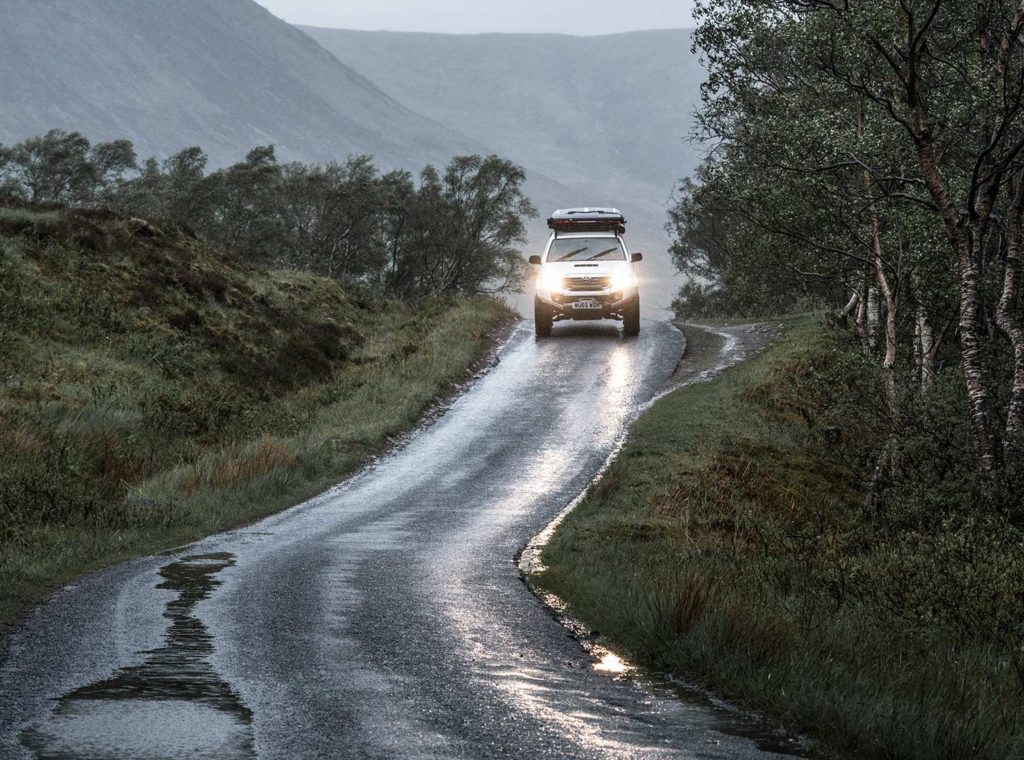 My first thought: What is it to be Hebridean? Having chatted non-stop to a family of English and Gaelic-speaking locals on the ferry over, it's a constant conversation about the weather – rain, hail and shine in a couple of hours isn't uncommon; it's knowing every second person who walks down the street, and probably their cousin too; it's always waving to say 'thank you' at passing places; and it's never leaving your friend's house hungry. Sounds wonderful.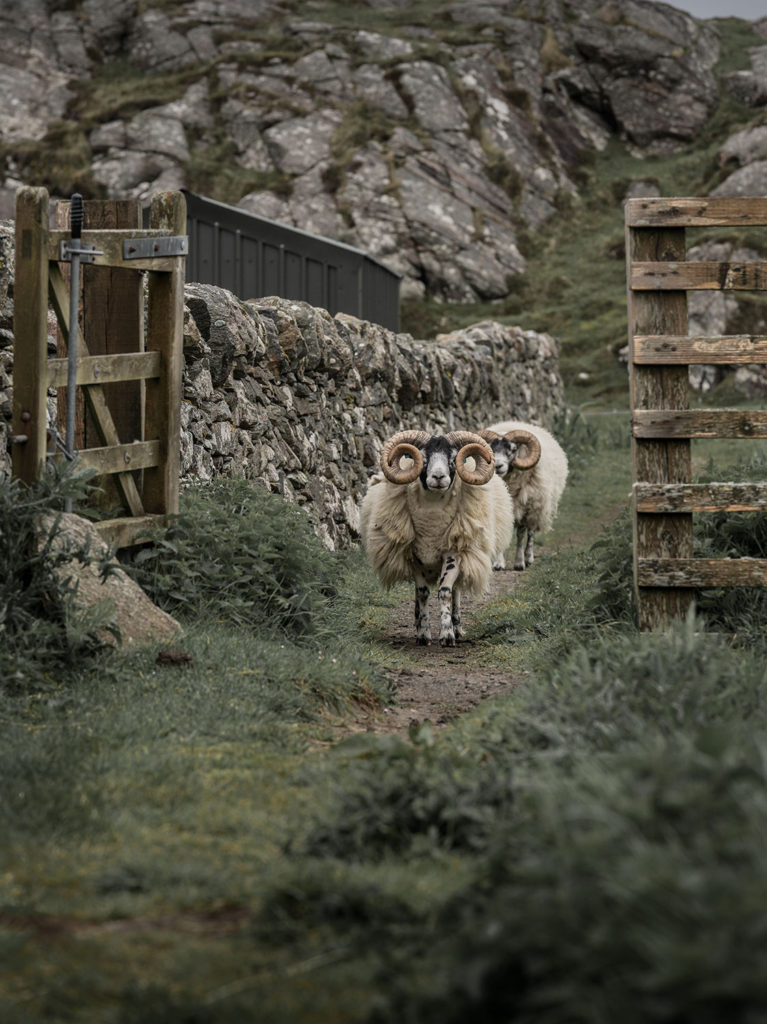 Isle of Lewis
Cobwebs suitably blown in the Highlands, we disembarked on Lewis. The sky was a fragile finch-egg blue, clouds made of porcelain. Lo and behold, there were sea eagles circling overhead. Sparsely populated, utilitarian and somewhat ugly houses were dotted about near roads that wound their thin passage on the isle. Weather-sealed habitation trumps aesthetics up here. Like a scene on the moon, the landscape is littered with rocks and boulders of all sizes, evidence of the moraine that scraped, gouged and formed the island under the weight of glaciers millions of years ago.
Callanish Standing Stones
Dating back to the Neolithic era, the Callanish Standing Stones is an impressive stone circle just off the A858. As megalithic complexes go, it consisted of rows of large pieces of Lewisian gneiss arranged in a cross shape. At the centre off the cross, a monolith can be seen and a small chambered cairn. It's certainly something to see although of limited Hebridean territory we covered, soon witnessed there were standing stones all over.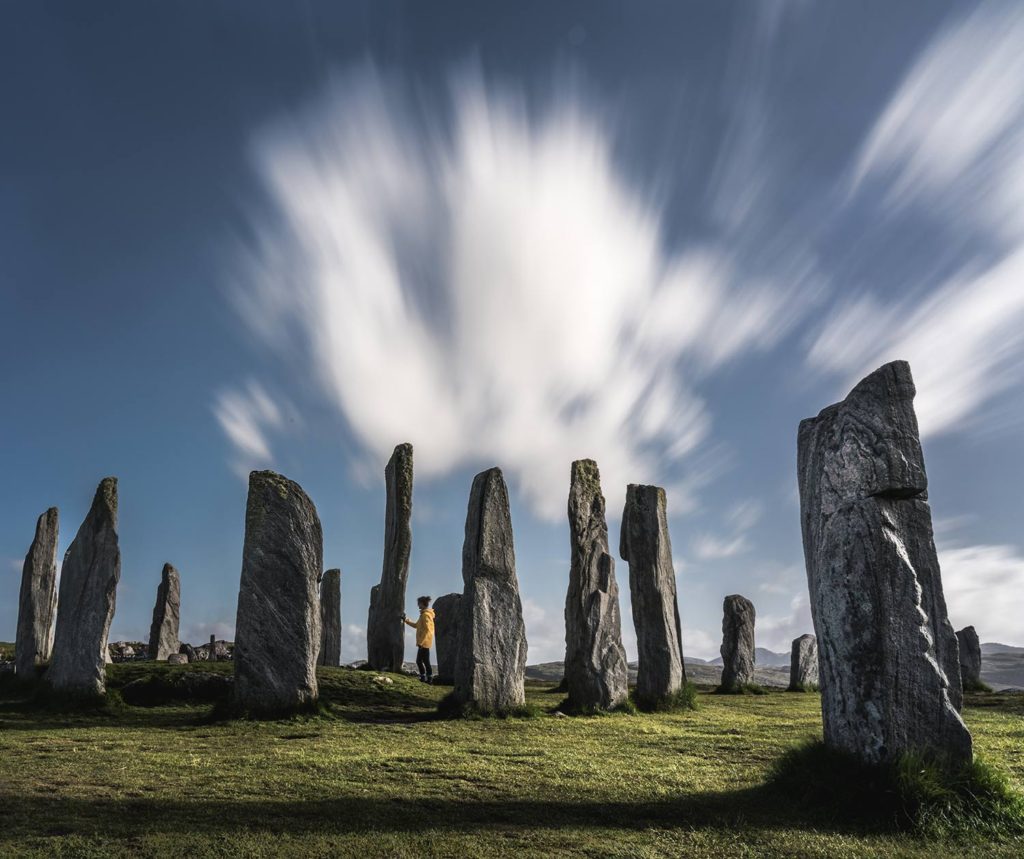 Drenched in good times
Having meandered over to Uig Sands, we spent the night with new acquaintances and avid rock climbers, Lewis and Bryn. They may have been old timers but the pair of them looked fitter than a butcher's dog. Inside Lewis' homely campervan, the buzz of conversation clicked and whirred as they kept us toasty and made fine company over a bottle of red. Bottoms up fellas!
Some waterfalls are vast, impetrable white-water curtains that crash spectacularly to the ground. This particular one we stumbled across, not so much. Far from planned, I lost my footing and somehow plunged perfectly vertical into one of its deep pools. It was not so much arrogance or stupidity, perhaps gross misjudgment and a lapse of concentration. Without managing to touch the bottom, I went straight in up to my chest. Oh no, she's in!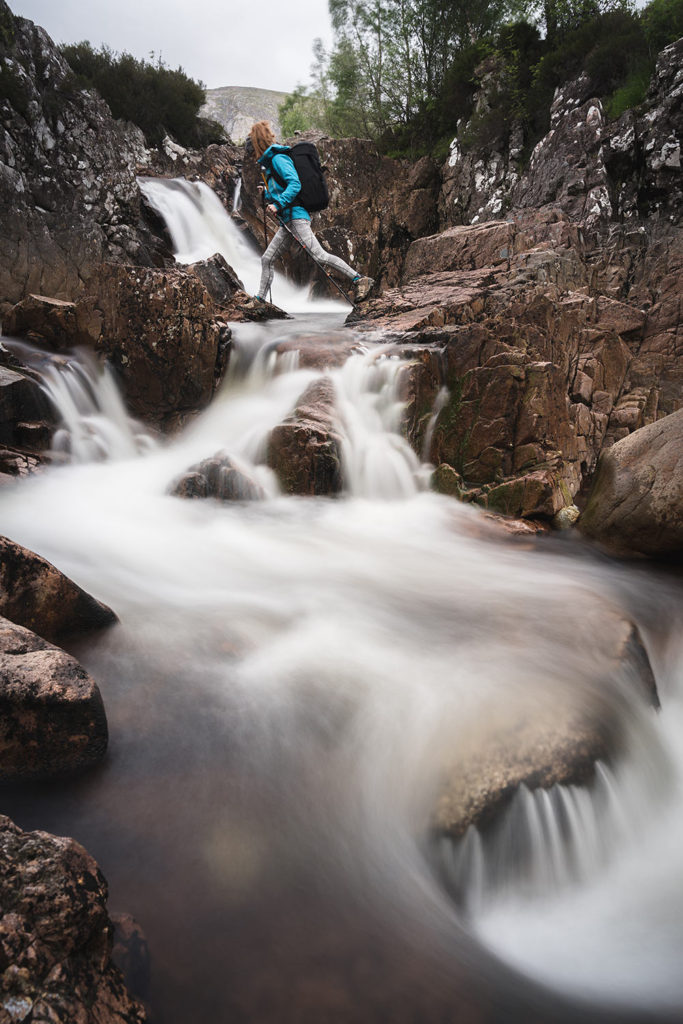 In fathoming how I'd ended up in the drink, Jason's expression was like a Neanderthal's working out the rules of Twister. Soaked to the skin, I dragged myself out onto the slippery ledge, the sun touched my face and warmed my gooseflesh to a comforting glow. Any cold stayed absent for belly-laughing so hard.
North Uist
North Uist is a landscape of fresh and saltwater lochs, miles of sandy beaches and causeway after causeway. There are cultivated crofts, fanks and loom-sheds galore. On the west side of the island, the road follows the machair (coastal green grassy plains bordering the sand dunes), and passes the Bairanaid RSPB Nature Reserve. The eastern side devotes itself to a birdlife-pulling water world.
Before venturing to a tranquil piece of coastline near Peninerine, we pootled over to Traigh Lingeigh, another huge expanse of pure sandy bays, behind which a mass of wild flowers popped in patches of colour.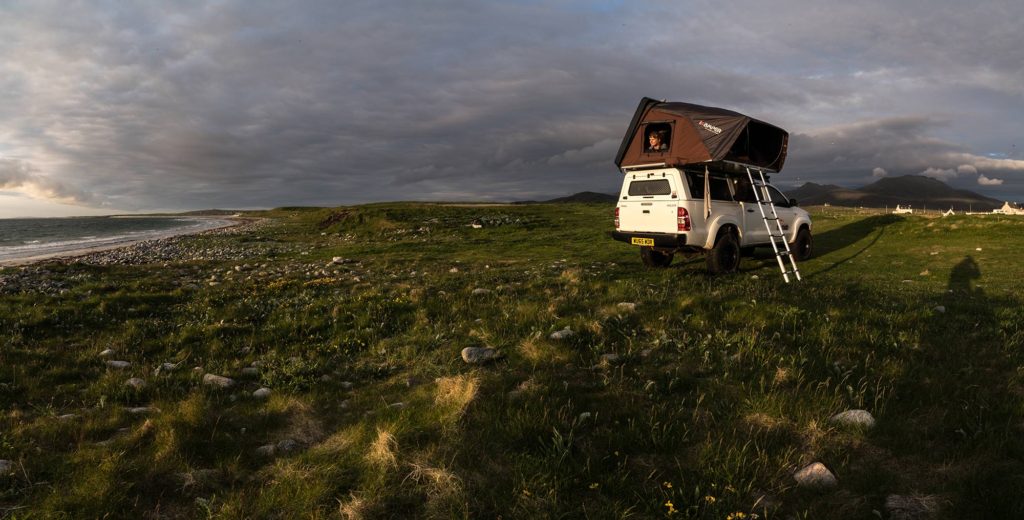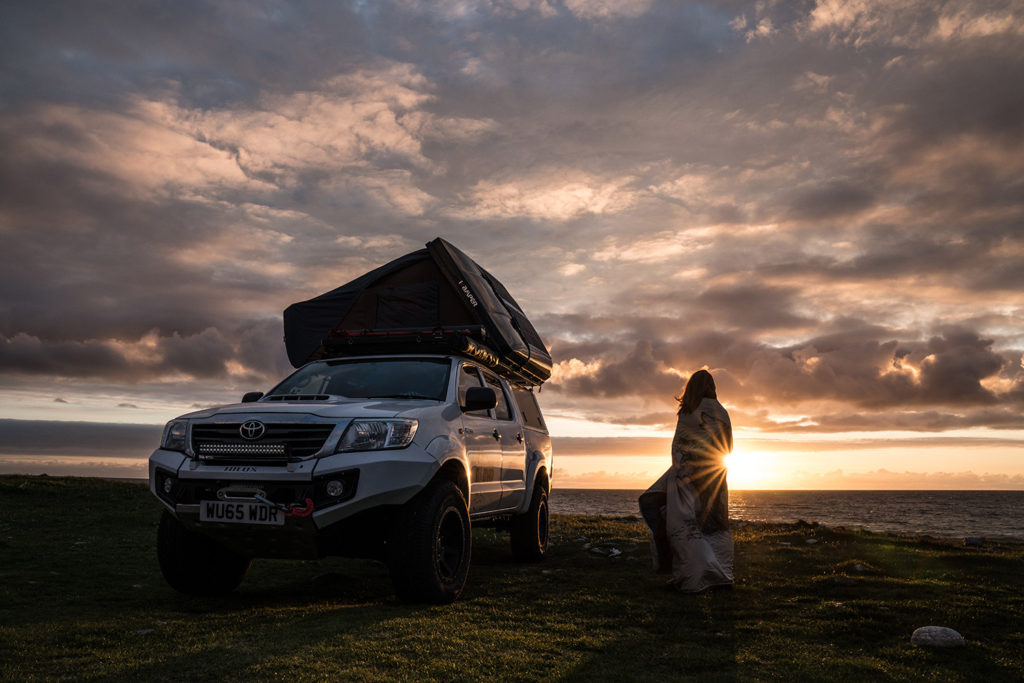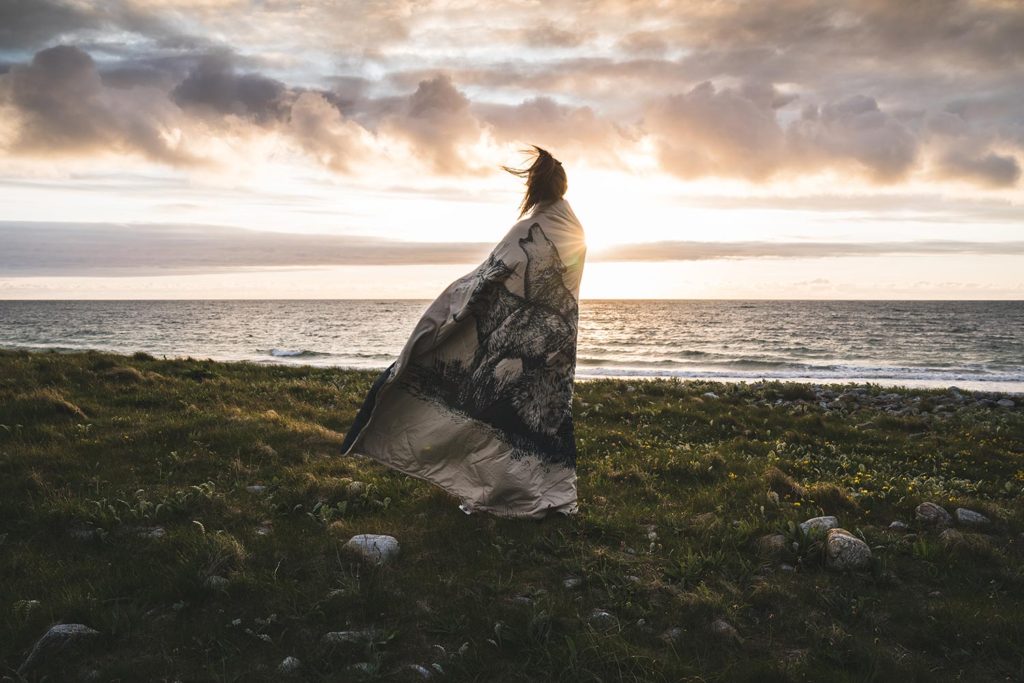 South Uist
Adjoining its northern counterpart lies South Uist. Crystal clear waters with more white powder beaches lie to the west, and heather uplands dominated by Beinn Mhor are situated to the east. Apparently, the 20 miles of machair that runs alongside the sand dunes provides a healthy habitat for the rare corncrake. Corncrake unsighted, we did spy golden eagles, red grouse and more red deer on the mountain slopes.
Isle of Skye
If you're on four wheels, I'd recommend bedding down for the night on the Staffin Boat Slip Road. Quite the spot, we wild camped for four nights back on Skye, which gave us time to meet and greet some of the locals.
One half of an older couple smiled wistfully at me, the kind of smile no one's capable of before the age of forty. The kind that contains sadness and defiance and amusement all at once. His voice was rich and dry, like port. As he expounded his personal theories about this, that and the other, I warmed to him instantly.
Equally as pleasant, his wife was may be fifty. Or forty and tired. Or sixty and grateful. I had no idea but liked her, too.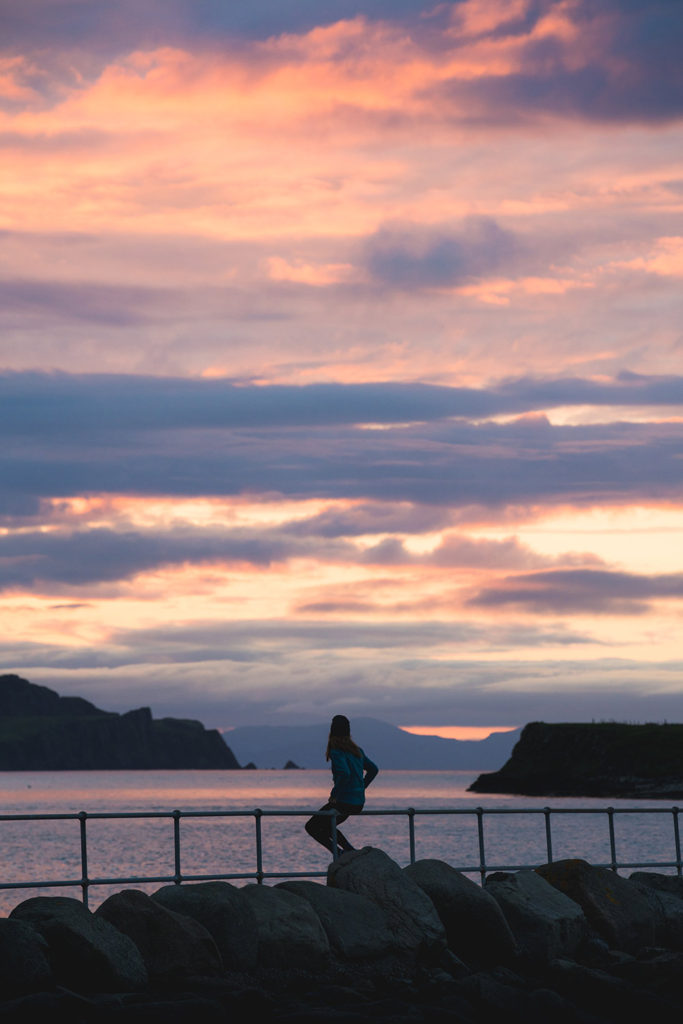 Over the next week, we gave Neist Light House, Fairy Glen and the Fairy Pools near Glen Brittle a brief visit each. All worth may be twenty minutes of your time.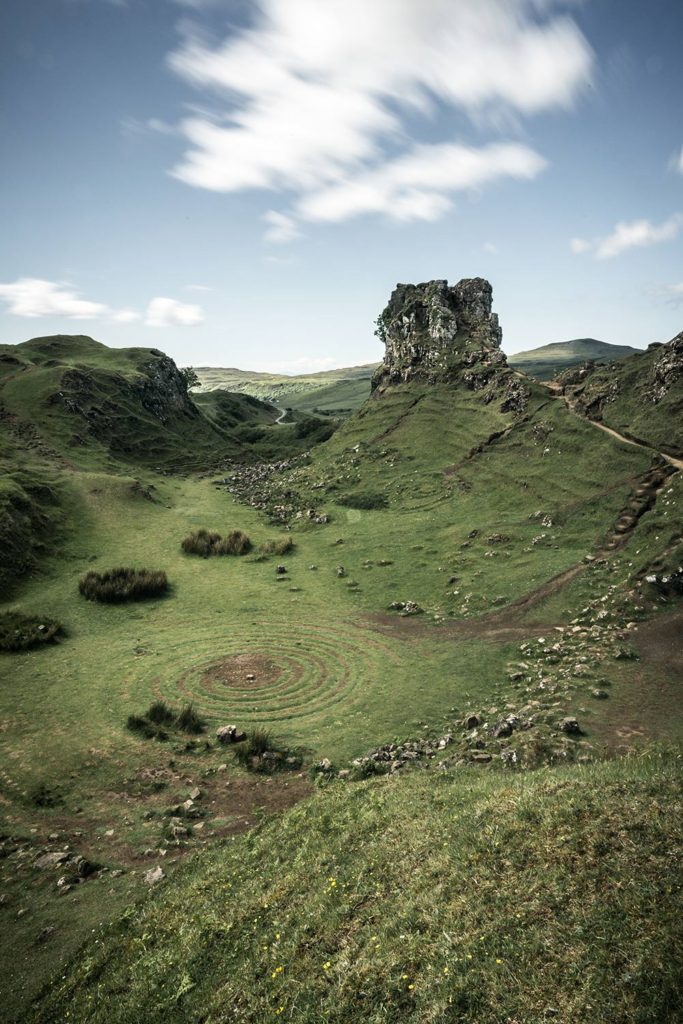 I woke the next day to blue skies and fresh energy. Unfit from having sat in the saddle for years, I needed every last scrap of strength for getting our 'hike on' and tackling the Quiraing.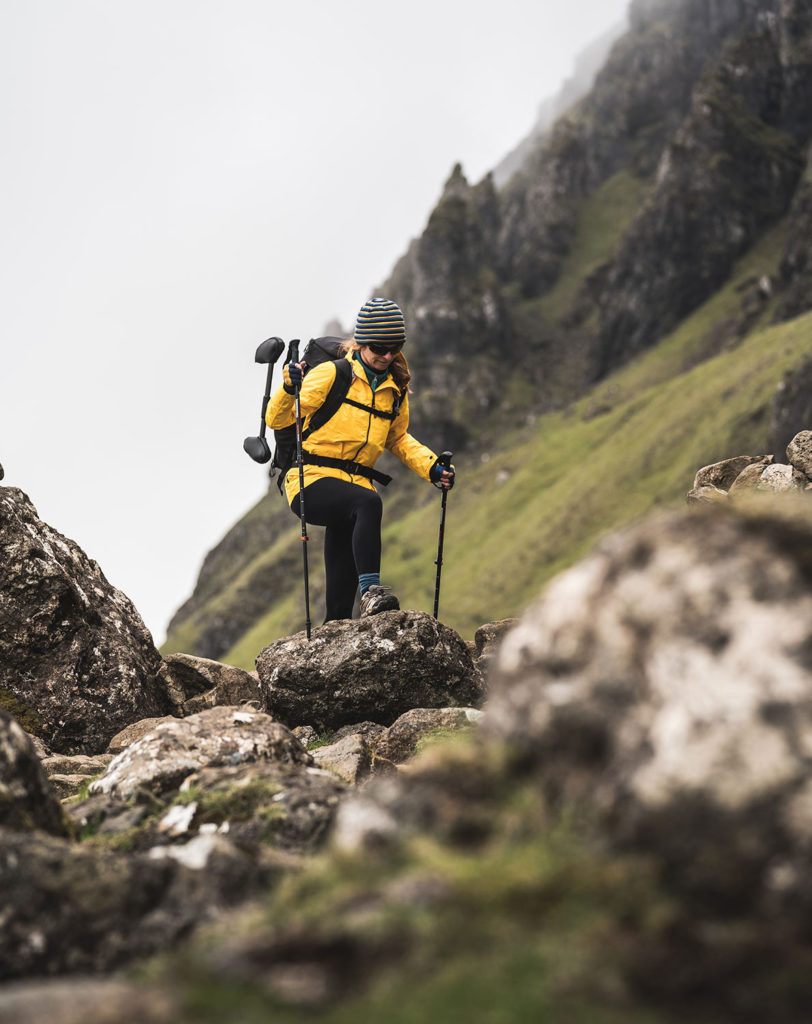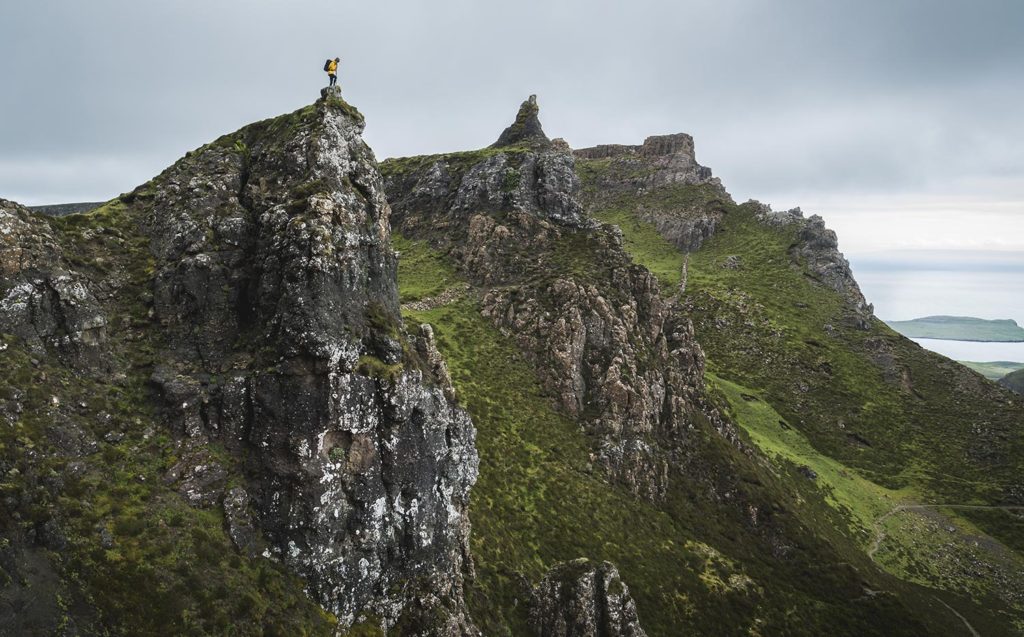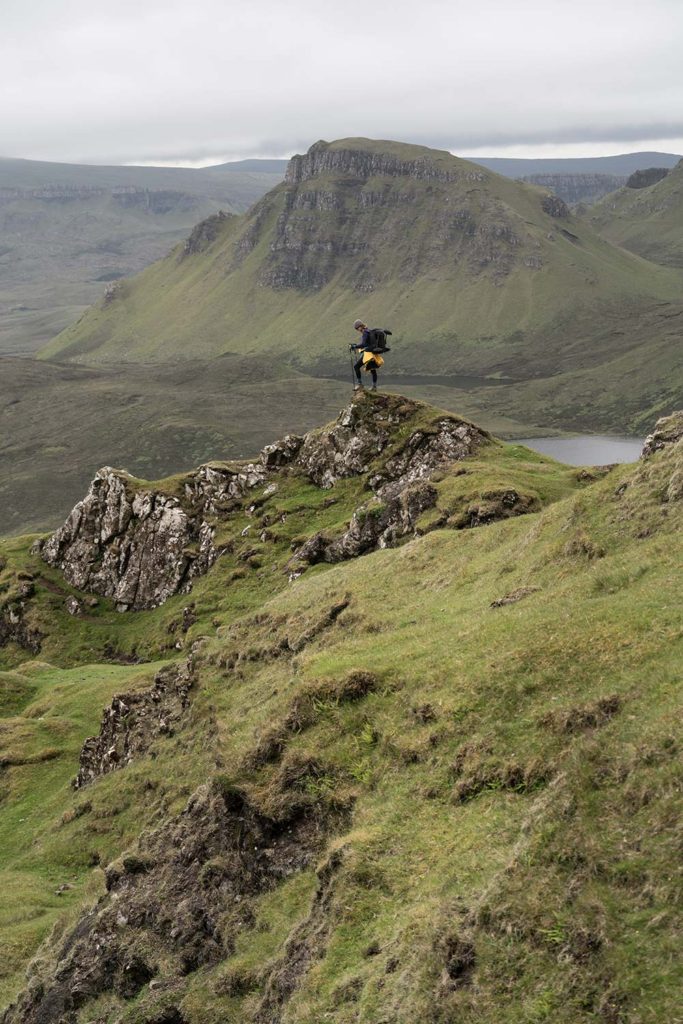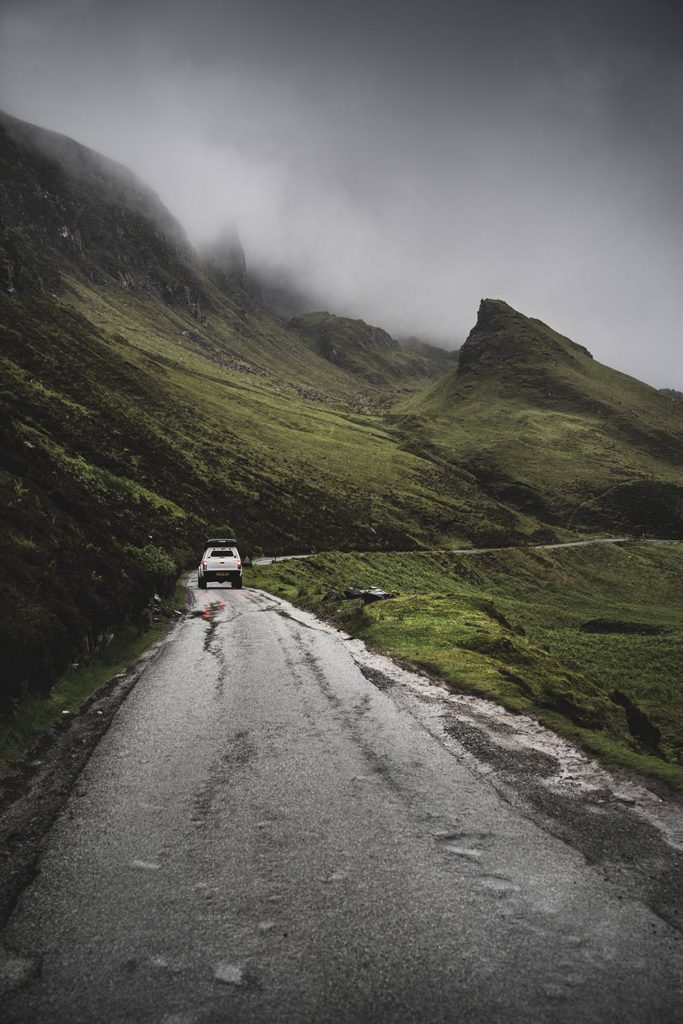 Later followed the steep slog up to the Old Man of Storr.
After an early-bird-catches-the-worm start and keeling forward, sucking in air with my hands on thighs to catch my breath, I managed to greet the Old Man of Storr.
Heads down, backsides up for the best part of a year has seen us in an intensive planning period. Thankfully, the Highlands and Hebrides made us take heed to things other than the Hilux again. I'd under-estimated northern Scotland's beach beauty. No litter, hardly any people, just clean sandy shores. We submerged into our surroundings (sometimes literally), and got lost in the feeling of being far from society. Scotland is a place where solitude overrides loneliness with only the natural beauty of coastal, mountainous and island geographies for company, made the perfect travelling companion. @fourwheelednomad