(ADV Moto: Issue Dec 2017)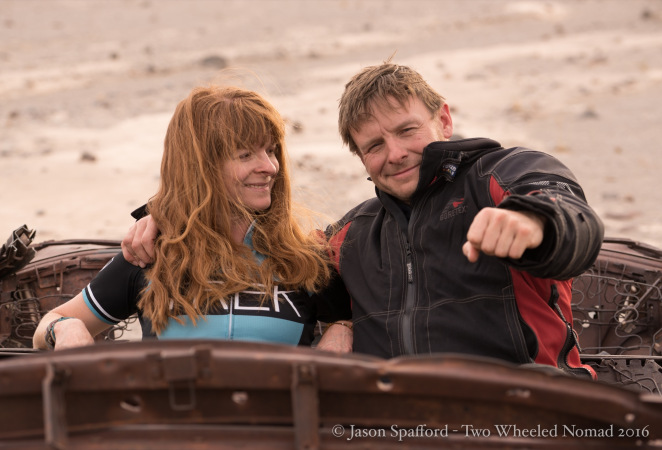 What was the plan before setting off?
We decided on the Americas for 18 months because it felt ample time for our first two-wheeled trip. A Carnet de Passage wasn't necessary, and the countries, for the most part, were politically stable—a pleasing starting point in which to dip the big toe.
Early on, while journeying from Antarctica to the Arctic, we also decided there was merit in producing media content. The idea was to document all the mishaps, mingled with the highs and challenges as we went. We thought there was value in publicizing that regular folks, who worked regular jobs, could make life-changing alterations to their lives.
Jason deepened his passion behind the lens as a freelance adventure travel photographer, and became a videographer and drone pilot, too. And I practiced my wordcraft as an adventure writer. Honestly, we didn't think twice about making ourselves homeless in the traditional sense—home has become "Dome Sweet Dome."
Were you both keen riders?
Jason began riding at 16, but I'd never ridden anything other than a donkey, although I loved the buzz as Jason's pillion. Prior to 2012, riding two-up worked well, but Jason became concerned that his R1200GS would end up dictating where we could go. A few months later, I serendipitously passed my test and got busy riding Pearl, a 15 year old F650GS.
Where have you been?
Having made our farewells on my mother's doorstep in February 2014, we rolled onto a container ship for a month before being deposited in Uruguay. From Ushuaia, we spent nine months in Argentina—that included a sailing trip to Antarctica—before crisscrossing into Chile and briefly visiting Brazil.
After Bolivia, Peru, Ecuador, and Colombia, we hopped onto the ferry to Panama and rode through Central America and into the magic that was Mexico. The U.S. saw us experiencing a handful of scenic highlights in California, Arizona, Utah, and Colorado, before seeing Baja California and Arizona at the beginning of 2016.
Having ridden hell-bent through British Columbia and the Yukon, we spent a good portion of time with the Fishhook Fatties(bikers from Southcentral Alaska), experiencing an Alaskan's Alaska in the summer months, which blew our minds. By June 2016, we finally ran out of road at Prudhoe Bay, Alaska. Incredibly, a selfless motorcycling couple took us in through Western Alberta's winter wonderland. Home is currently Juneau, Alaska's capital.
Has it been better or worse than imagined?
For the most part, unimaginably better. And infinitely easier! Reality took hold, as did the spontaneity of it all, and the freedom bestowed on us is phenomenal. We wake up never knowing what's in store, who or what we'll encounter. Individuals we meet randomly on the road have opened our minds to a planet of different perspectives. It's crazy good when the jigsaw pieces coalesce.
Fortunately, after three years, we both wish to sustain a nomadic life, one that facilitates wilderness-seeking and people-rich encounters.
But, the grass is never greener, it's only different. Sometimes we struggle. When rocking up to a sweet spot, we can't just abandon the bikes and take off. Not without seeking a considerable measure of security for them, which isn't always available. But for sure, it's a limitation worth accommodating for all the pluses gained in the saddle.
How have you been funding your journey?
We sold our house. Extreme as that may sound, we were selling anyway, which gave rise to liquidating most of our possessions and saving like misers for two years. Living well below our means, frugally foregoing life's niceties for the bigger win—a time-rich life. Investing part of the proceeds into rental property generates a small passive income. We allocate about $50 per day for food, gas and accommodation. That excludes the container shipping cost and one-off excursions.
What are your weapons of choice?
Jason's weapon of choice is a 2008 BMW F800GS. You have to ride a bike that excites you, and this is the bike of his heart. It came with a custom skid plate and a set of Adventure Spec heavy-duty engine bars. He also snapped on an inflated air cushion atop of the stock seat. A problem with the windscreen's design was solved with a Touratech fairing; not cheap but worth it.
In Alberta, I swapped Pearl, my former factory-lowered F650GS for Mr. Jangles, a 2001 Suzuki DR650. A lot lighter, it's a single-cylinder thumper but they've barely changed since being introduced in 1990, so parts are everywhere. DR650s may be one of the best-kept secrets among moto-travelers! It's been partly modified with a bigger fuel tank, a skid plate, upgraded suspension, LED lights, and fat bar and bar risers. Jason installed new plastics, re-jetted the carb, opened up the air box, and fitted a lighter exhaust and a digital display. He also installed a decent windscreen Cycra Probend CRM hand guards, and a custom seat. And, I've lowered the suspension to pare it down to my height.
Initially, we fitted both motos with Metal Mule aluminum panniers. Supplanted those with Adventure SpecMagadan MK2 soft saddlebags as we spent more time off-road—they were bombproof as much as they're lightweight albeit requiring racks. Lighter still is the rackless Giant Loop Great Basin bag, an all-in-one 60-litre horseshoe luggage system, which has worked wonders in keeping my ensemble light and tight astride the DR650. And a load that's far from heavy makes life infinitely easier in negotiating the loose stuff, particularly when it comes to picking the bike up after every get off. For me, switching to Giant Loop was a no-brainer for the discipline of riding we like and category of bike I'm on. I'm even toying with the idea of transferring onto a much smaller bike and letting Jason ride the DR, where the Giant Loop would be just as fitting there as it is now.
Three things you had to bring.
An insulated sleeping mat, the multi-tools and plug-in heated clothing.
Any online resources you care to share?
For hunting down campsites, iOverlander.com is excellent. For negotiating tent space and rooms, HorizonsUnlimited.com is the gold standard for connecting with salt-of-the-earth folks, along with Couchsurfing, Eat Sleep Ride, and Ride with Me apps. For renting a room, AirBnB.com and MotoStays.com are fabulous. Maps.Me app offers offline worldwide maps with fantastic attention to detail on the trails. The Waze app is an accurate 3D GPS navigation tool. And Rever.co helps with route planning. The SkyCode app deciphers whole paragraphs into your desired language, and Duolingo.com is a priceless linguistic learning tool. The Word Lens app lets you hover your smartphone camera over foreign text, leaving you in grateful awe when it supplies the English translation.
Any handy hints for border crossings and random spot checks through developing countries?
At borders, be the nicest and sweetest you, while keeping your answers relevant and concise. Oblige officials like they're gods. When pulled over for random spot checks, don't be afraid to use anything at your disposal. For instance, upon being asked to present the entire contents of my luggage for the umpteenth time in a day, I may've been known to lay feminine hygiene products at the top of my pannier. Throughout Latin America it worked like a charm in attaining swift dismissals.
Upon being asked to pay a roadside "official" a bribe in a developing country, gentle persistence in conveying the language barrier, or showing a stoic willingness in polite decline, has kept our hard-earned dollars in our pocket. Otherwise, ask for a receipt, as that will often deter them.
Know the current exchange rate before entering a new country. Also, find out whether road insurance is mandatory or not, because in some developing countries, it's not worth the paper it's written on.
Any illnesses on the road?
No major illnesses or diseases contracted, yet. Eating the local yogurt can help, it's packed with local healthy bacteria effective in decreasing diarrhea, constipation, and bloating. Of course, a few sips of whisky every week will kill just about anything off. Eating food that's cooked in front of you is always a winner; that way, you can see for yourself that the rice hasn't been sitting there for three days. Sounds obvious, but source the local produce and "menu of the day" over the tourist menu. A lot cheaper, too. Healthy living, eating fresh and prevention are better than cure.
How has your relationship been, together all this time?
With nothing to lose, and less to prove, we took the worst-case scenario attitude where there's no shame in trying something and not liking it. Managing personal expectations beforehand was key, and seeking out those who had done exactly what we were about to do, to dispel growing concerns, helped enormously to eliminate any moto-travel anxiety creeping in.
The best thing about riding as a couple is the constant companionship. Two-wheeled travel bestows unexpected experiences upon you, phenomenal firsts, and vistas that will make your soul sing. We're very lucky to share all of that, and have long taken it for granted that we can grin and gawp at something, or yak down the helmet's intercom for hours. Likewise, when circumstances get tough, we're together to jointly problem-solve and bounce ideas off each other.
What's the worst thing? The constant companionship! Being with your "marvelous other" 24/7 in often unpredictable and difficult conditions through foreign lands can be a tall order. It's tested our relationship, although we've learned to recognize one another's sources of irritation.
What are your driving forces and what still holds appeal?
For Jason, photography is undoubtedly the biggest draw. It's about having a separate purpose outside of motorcycle travel, an enabler for his true passion and some would say his calling. And, all things being equal, his work inspires others to journey to new places, near and far. To see that the wider world is incredible, and worth every moment invested in it.
For me, I'm a spirited advocate for women riders. As one of the least natural riders out there—any doubts you may have, dispel them immediately and just go. I like to indulge my inner gear-geek as a product reviewer, field testing motorcycle- and camping-related items, as well as consulting for various manufacturers. I dabble in motorcycle journalism, too. I'm not sure if I ride to write or write to ride, I need an expressive outlet as much as Jason.
Any advice on motorcycle travel?
Anything that's double duty: a down jacket inside a helmet cover for a camping pillow.
Non-riding clothing that's quick-dry, moisture-wicking and breathable.
Merino wool over cotton, and down over synthetic.
Have one luxury item with you.
Carry something you can give to people on the road—badges, stickers, cookies…doesn't matter—it breaks the ice and forges fast friendships.
Strive to leave a third of each pannier's space free—there's a tendency to acquire stuff as you travel.
An external battery pack keeps the electronics in business.
A hydration pack can carry up to three liters of water and saves you from carrying bottles, while giving you the option to wear it or strap it down.
Clothes organizers, mesh zipped bags, and color-coded dry bags keep you sane.
A collapsible pot, kettle, and two bowls—all silicone with solid bottoms.
Duct tape anything that looks like it could leak.
A universal sink plug and anything that will act as a washing line.
Our first aid kit is rudimentary: If a bandage, anti-inflammatory analgesics, and duct tape can't temporarily fix it, chances are, it'll require medical assistance.
Flip-up helmets open up our faces and reveal big smiles—an international friendly hello without having said a word. Being as approachable as humanly possible is number one when traveling through foreign lands.
What are you most frightened of?
I still have trepidation about having a major "offy" on the bike, whereas Jason dreads giving up an adventurer's life on two wheels and returning to his old one. Neither of us is ever going to wish we'd spent more time at work before we croak it.
So what's next?
After Southeast Alaska, we'll revisit mainland U.S. and head to Yellowstone, Bryce, Zion national parks. Bonneville Salt Flats holds appeal. After that, we'll ride to eastern Canada. Thereafter, Africa holds serious seduction but so do the alluring landscapes of Iceland. And Nepal!