"The joy of life comes from our encounters with new experiences, and hence there is no greater joy than to have an endlessly changing horizon". Something that Chris McCandless (Into the Wild) wrote in one of his letters to which I can relate pretty well after nigh five years on the road. For him and a lot of folks – whether you fall into the family of overlanders or not, it's about diversifying the way you live your life, aligning it to invite an evolving set of firsts.
When it comes to Jase, he's also partial to being in the right place with the right light. And I'm smitten with the big open spaces left in the world. Alas, we have bathed in the trip's romantic, crazy good ambience for so long, both of us were beginning to burn out. Namely, living out of two panniers and a roll bag for four and a half years will do that to you.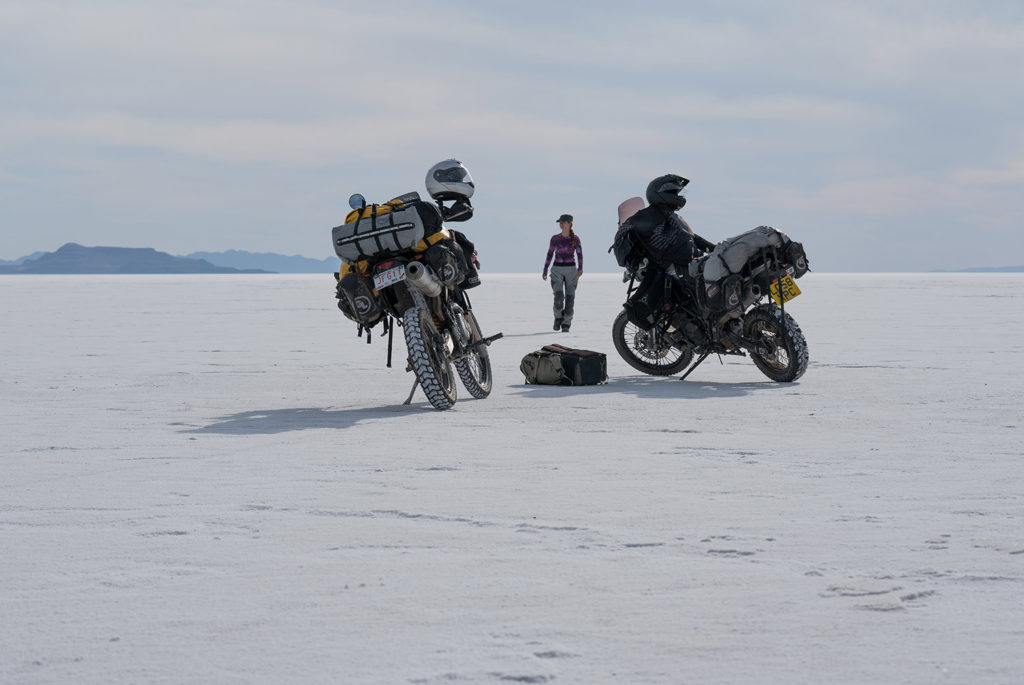 Bonneville Salt Flats, Utah
Getting our final fussy out of the trip comprised a long-awaited sojourn to Bonneville Salt Flats in northwestern Utah. It was one that compensated for not having done so on the Salar de Uyuni, Bolivia's equivalent which can boast as being the world's largest. Yesterday's clouds had been blown away by a change in the wind and like my mood, the morning sky was high and open. The temperature on arrival was perfect, the air silky soft on my skin.
Treated to an afternoon of stunning light, we watched evening shade into a peaceful night. When it was halfway to dark, both a moon and a sun sat high in a sky that was sugar almond pink and shot with gold.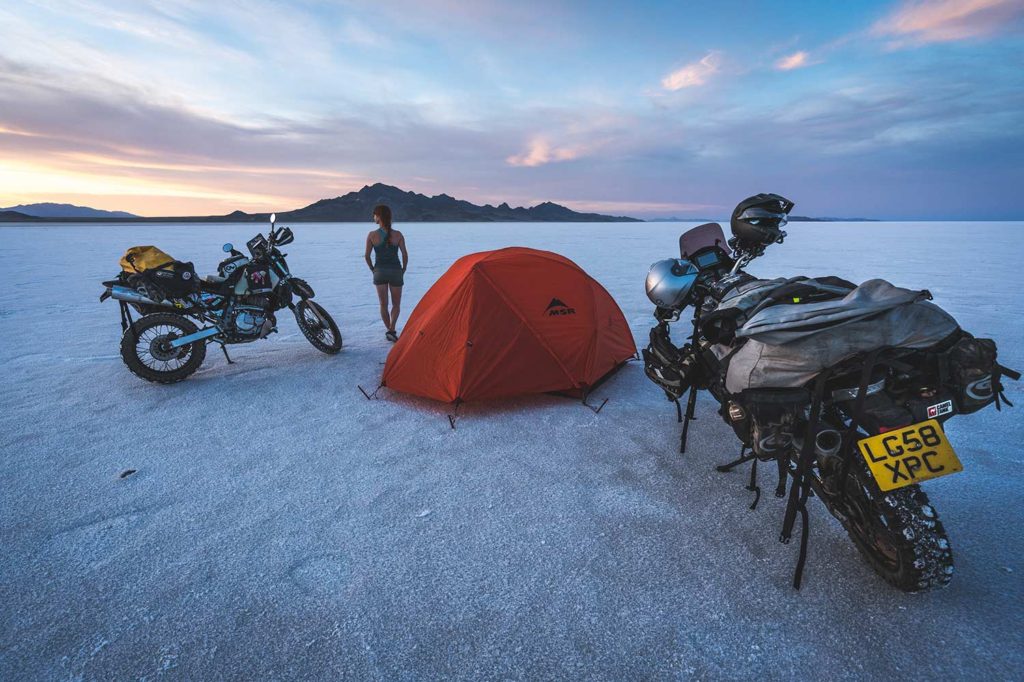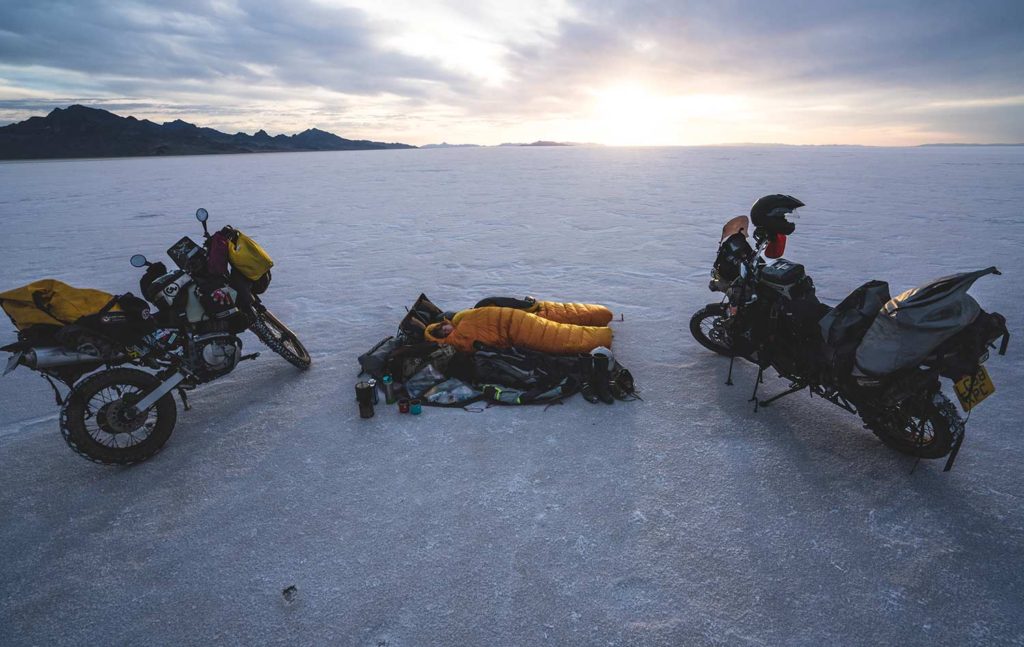 Bonneville is the kind of place that takes on an energy all of its own, it comes replete with that glowing smoothness and harmony of feature – a spot not to be missed. It ended about 24 hours before I would have liked it to.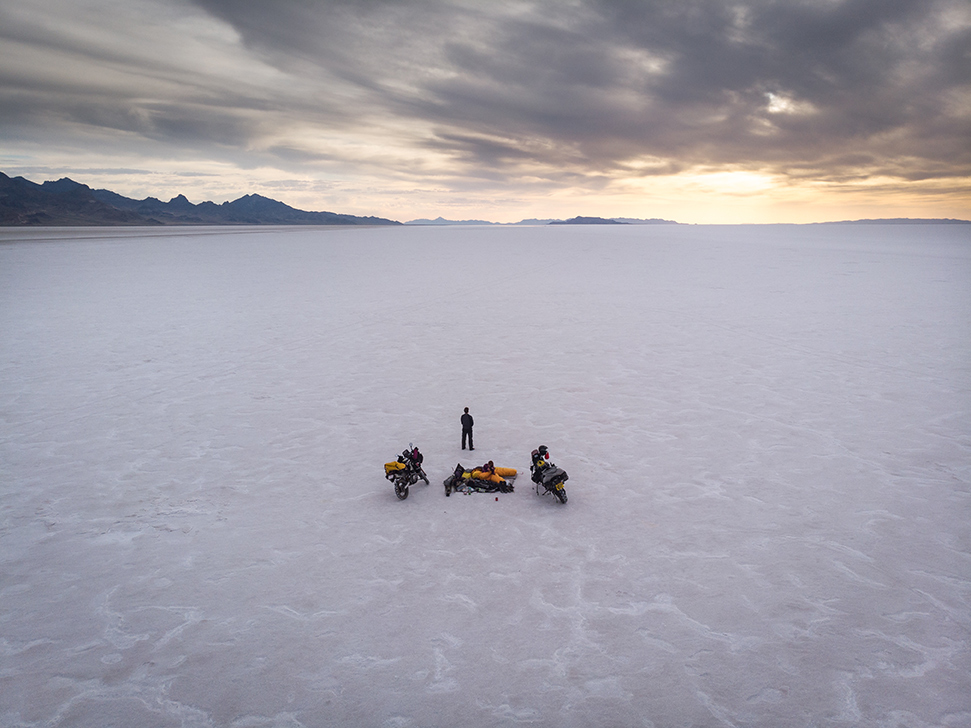 Grand Teton National Park, Wyoming
A couple of unexpected days ensued in the Grand Teton National Park. Selflessly, Dan and Julie hosted us on a two-day guided tour, courtesy of what lay on their doorstep where Old West flat-fronted buildings banked each side of the street. When I half expected a gunslinger to swagger out from a dusty saloon, only tourists carrying their 32oz buckets of Cola emerged.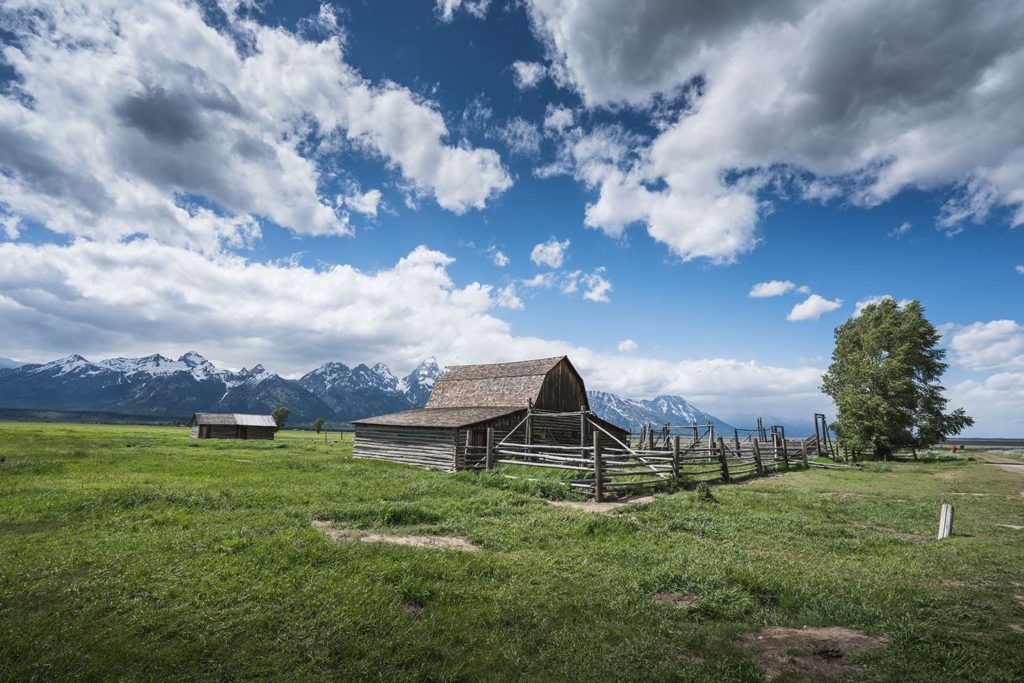 It's uncanny to think if we hadn't camped where we did way back when – spending the night in a hammock in a palapa on the Baja, Mexico, there would have been no magical meet and greet with Dan and Julie. Nor a taste of their little piece of paradise. It made me smile some more when Julie expressed her sympathy for us upon our initial encounter; honestly honey, I love sleeping outside in a hammock—I still have no idea why we earned her sympathy.

Yellowstone National Park, Wyoming, Montana and Idaho
For us, Yellowstone National Park through Wyoming, Montana and Idaho should have been a buffalo-rich, colourful experience. One full of sizzling hot springs, fumaroles and bubbling mudpots. A symphony of sights and sounds amid meadows, forest and volcanic studded scenery. Like Yellowstone's geysers, it panned out to be a lava-hot eruption of heated arguments and enraged run-ins. So much for staying temperate, patient and tolerant after years of travel, we should have elected to keep our counsel on our individual matters. There's nowt as queer as folk.
Enraged at Jason because he rode through the car park with a tad too much haste and bumped from my bench spot before a big geyser was about to blow; was it solely their misplaced anger or mine at theirs? The latter sounds about right. Worlds collided with volcanic sparks and supersonic booms – I guess life unfurls like that sometimes. If nothing else, it reinforced the fact that our 80,000-mile stretch aboard the bikes was always susceptible to things going awry. To add insult to injury, everyday spend such as national park camping fees began to feel like spendthrift madness.
Devils Tower, Wyoming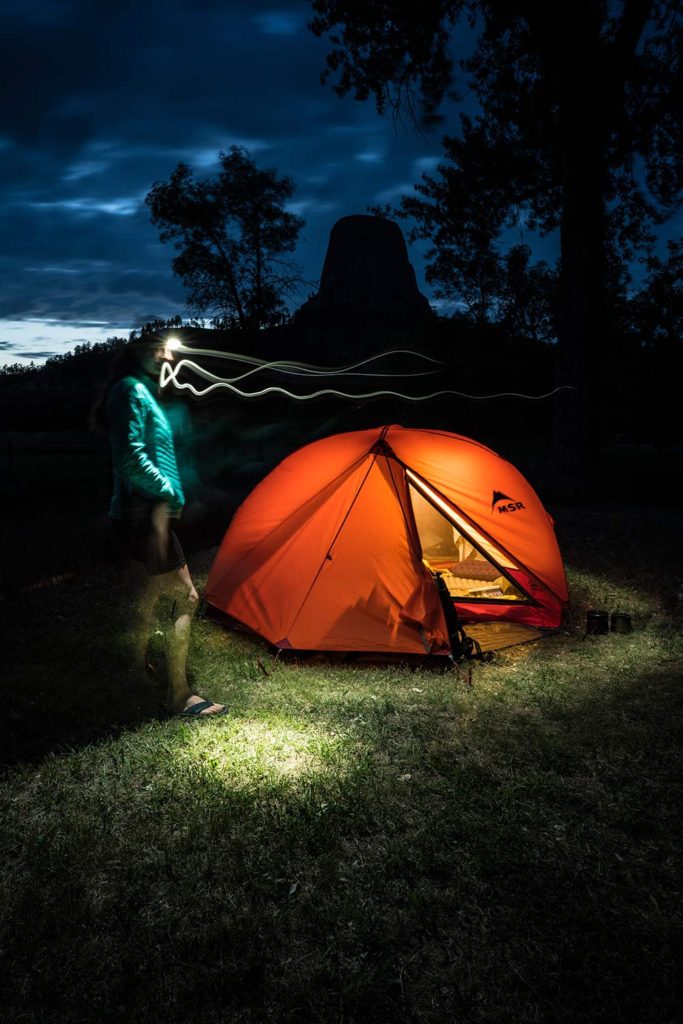 Blessed relief, it's amazing how calming an overnight pit stop at a big butte of igneous rock can be. Devils Tower back in Wyoming did wonders for getting us back on form in the Bear Lodge Mountains – the very same one as seen in Close Encounters of the Third Kind.
Mount Rushmore, South Dakota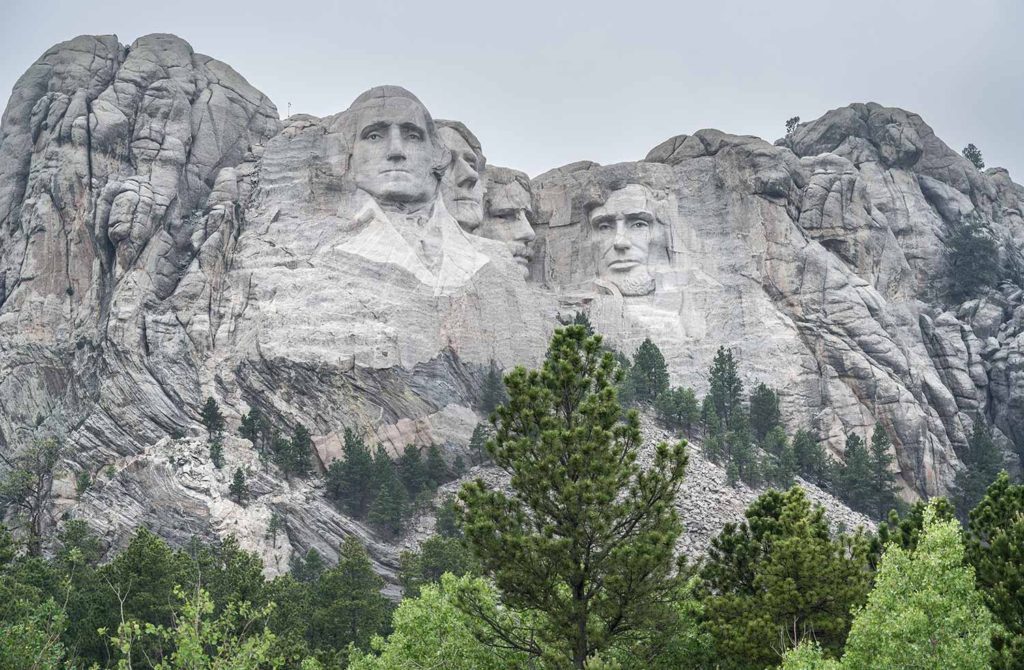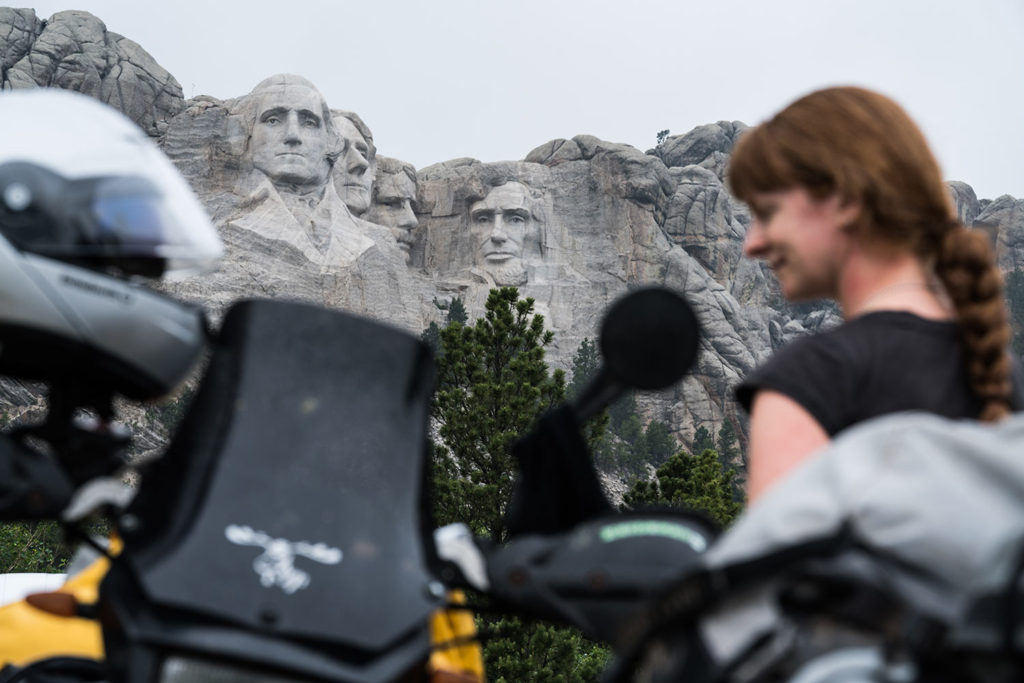 Badlands National Park, South Dakota
Cue R2-D2 birdsong, as I indelicately baptised it – I'd never heard anything like it. The birds had been in full throat since our arrival, asserting their territory to anybody who cared to listen. It brought solace to the camp spot after the sodden ride laced in thick fog, stopping us in our tracks from taking the 'racing line' through the park's glorious twisties.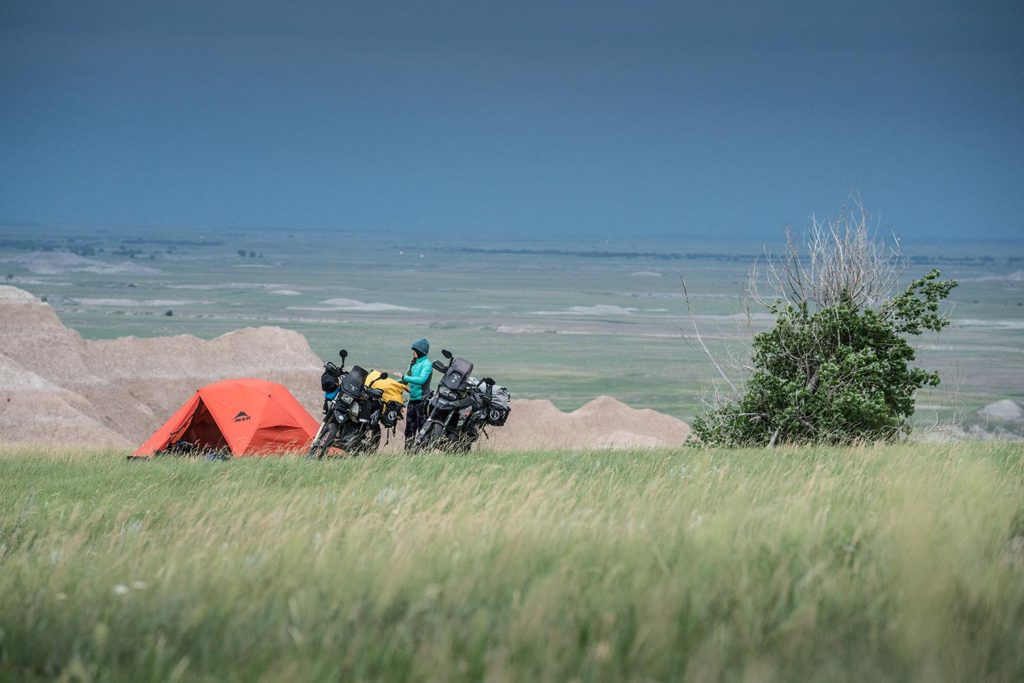 Our ride through the Badlands was overcast and cold, the roads were glistening, and the puddles intermittently silver as clouds scudded across the sky. Rewarded with a lightning storm after finding our way out of fog so thick, it bore a ghostly silence. Cocooned in mist, we could barely make out large clumps of rock dotting the hillside like gravestones. Bad to worse saw us get caught out when the rain seeped through the tent seams like a leaking faucet all night, oh dear.
Setting off on the back foot and cranky the following day, temperatures dropped to rude, and the raindrops battered down like machine gun fire. Within moments, the gutters were full. A torrent of water elbowed its way down the street looking for its escape. We did the same and found refuge at Lakota Lodge, perhaps one of the cheapest motels I've had the privilege of patronising. A motel always expedites the re-arrangement of my resting face into an expression of humble serenity.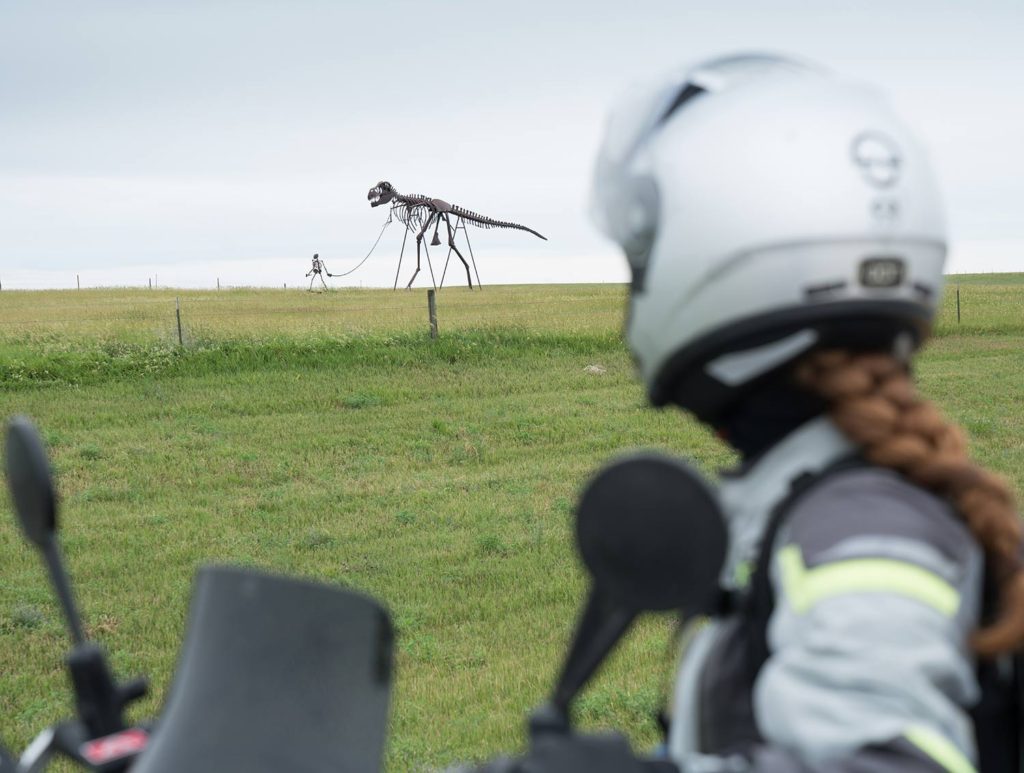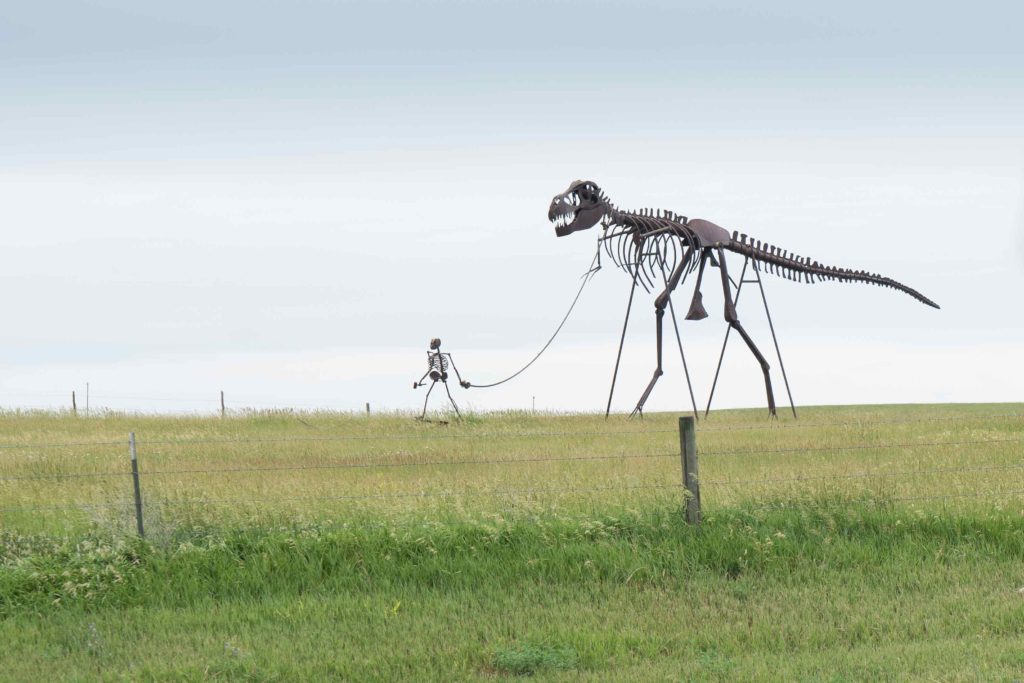 The Great Plains
You have to take yourself through the Plains to fully wrap your comprehension around the emptiness of this country. Below a broad, limitless, chalk-white sky, its main characteristics are lack of traffic and a windswept loneliness. When the sun made an appearance, it glinted on a remote water tower or silo, a billboard or a tin-roofed storehouse. Every 30 or 40 miles we'd pass through a struggling town which continues to exist because at some point in the past it set out to exist. We stopped for a bite in some of those towns, hoping for homemade hash browns or apple pie baked an hour earlier by the owners' wives, but all the food was rehydrated if not thawed and then microwaved.
Near Sioux Falls, South Dakota
Epic and iconic points of interest on the trip notwithstanding, two tiny kittens running around a tent complete with an air conditioning unit jutting out of it – you've gotta marvel at the sights when you're on the road. Big and small. And there he was. A proponent of short denim shorts and to complement these, a string neon vest which was skin-tight over a bronzed belly and tucked into his shorts. As if this statement was not bold enough, the chap finished his outfit off with a thousand washed grey socks and sandals. Don't you just love people watching?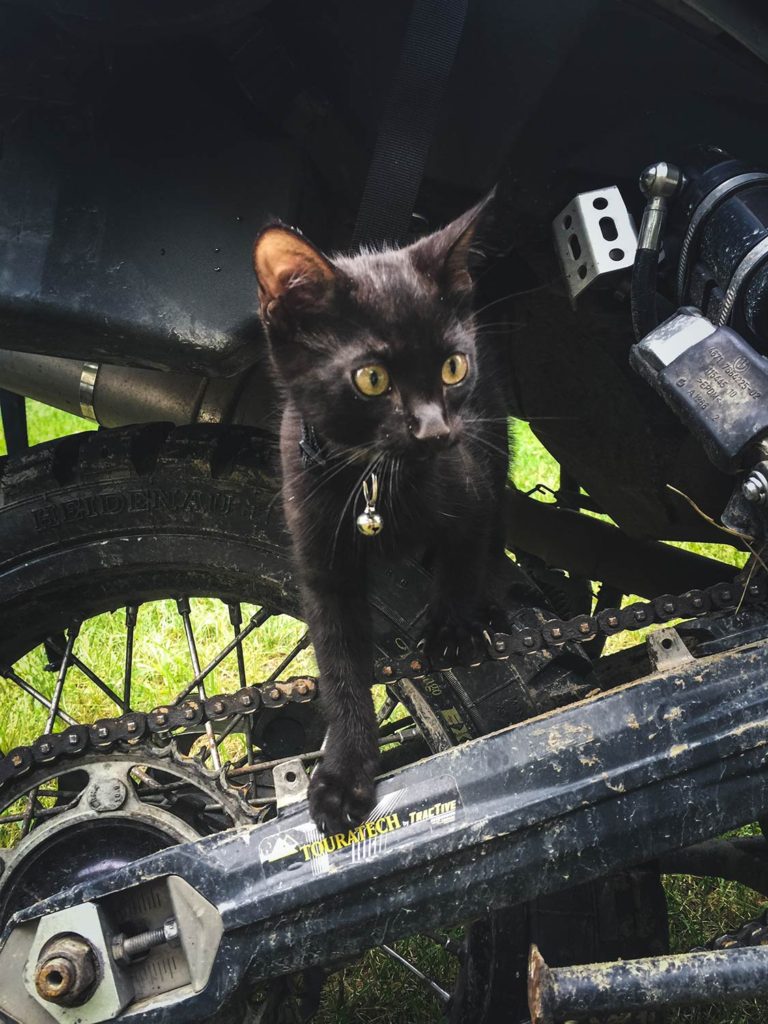 South Milwaukee, Wisconsin
Stateside, the weeks tripped by with tremendous haste. Including a thoroughly pleasant fortnight with Andy, Sue and Sue's two bonny children in South Milwaukee. There was no lingering on from whence we had come. Having ripped up the miles eastbound to the Great Lakes, somewhere between Lake Michigan and Lake Superior, we were whooping the country's ass. But having scooped out the bulk of spongy foam from my seat to pare down the height of my tall bike, was taking its toll on my own backside. I love the all-terrain beast that is my DR650 but riding a Spinosaurus would have been more comfortable.

The end of an era
I've survived yet another lifetime and acquired a vault of memories in the process – motorcycle travel is stitched into the very fabric of my being. Having paused for now, I fear it's going to take time to bring the howling wolf of my nostalgic longing to heel.
To the core, we are grateful beyond measure for the milk of human kindness bestowed on us during the trip. The support, love and friendship from every soul out there with whom we've crossed paths has been immense. Not just our nearest and dearest but passing people, overnight neighbours, fleeting acquaintances and friends of friends. Even total strangers making a beeline for us in Walmart car park, throwing their arms wide as though to welcome us into their spiritual home!
As someone that set off barely able to ride, plagued by a tornado of concerns swirling in my head, I've been galvanised by Jason's mentoring and many a helping hand to boot. Setting off from my mum's doorstep in 2014 headed for the Atlantic voyage via container ship, I couldn't bring myself to open my own mouth just in case my heart fell out of it. So I just kept silent, and looked at my mother, hoping she'd intuit what I meant – that I was going to miss her.
Although the bikes would pave the way in opening up uncharted worlds for me, I'd still battle with traveller's guilt along the way. I hoped a grim nod and shaky thumbs-up would get the message across. I now know that my mum was convinced she'd never see me again – keeping company with dread for goodness knows how long. I also know however much you loved someone, it wasn't always enough. Love alone couldn't keep a daughter safe. That aside, everyone thinks they have the best and most supportive mum around, but actually, I do. Thanks, mum.

Eternally indebted
What's more, we have been exceptionally fortunate to partner with a superb string of companies, driven by a passion for travel and outdoor exploration. Thanks to such visionaries that invested in us, permitting us to pay it forward and create the content that we live – as much as love – to produce, we've earned ourselves a healthy following tied into a life of adventure.
To all those that have gone the extra mile in keeping us on the road, we wouldn't have gone so long for so hard without such backing. A heartfelt thank you to everyone on board with Two Wheeled Nomad. Without you, this four and a half year ride from the bottom of the planet to the top would have concluded within 12-18 months.
Every time I reflect on the trip, I feel a pleasing, bone-deep certainty that happiness can be as simple as being warmed by the winter sun, dining al fresco on something delicious and washing it down with something cold after a big hike to a backcountry campsite. Making a connection with another human being or just dissolving into giggles with somebody. It's integral to what makes me happy and finding contentment in wanting what I've got.
Filled with the inrush of getting busy living, I tipped one finger to my forehead and watched my bike head home across the same ocean where it all began.
BIG moto-love to you all.