Dometic Brand Ambassadors Lisa Morris & Jason Spafford
Click here for our profile on Dometic.
General
What are your names? 
Hi there, I'm Lisa Morris and my partner is Jason Spafford.
Where's your hometown?
Nottingham, which is in the East Midlands, England.
What did you used to do for work? 
I finished my last employment as an Occupational Health Manager for an OH provider and Jason used to run his own business as an electrical contractor.
What is most surprising thing about you?
Mmn, I'd say the fact I've possessed zero sense of smell since birth and that Jase has featured in a major blockbuster movie.
Describe yourselves in three words?
Me: Organised, spirited, sarcastic. Jase: Practical, funny, open-minded.
What inspires you?
Anyone that: makes life look easy, me laugh or oozes charisma.
Where are you going next?
Excitingly, we're just days away from commencing 'The Mega Transect' which will comprise taking White Rhino (our 2015 Toyota Hilux) to Scotland, across Scandinavia and other regions in Europe, Iceland and then top down through the African continent!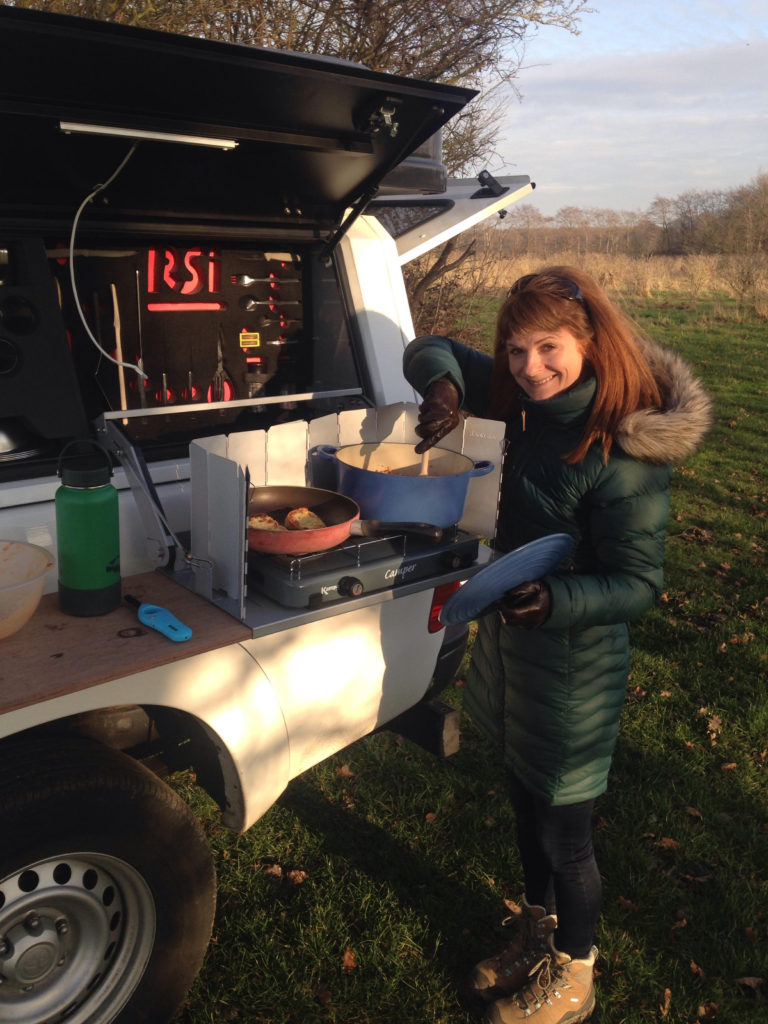 Mobile Living
What was your life before you discovered your passion for travel and mobile living?
Our lives have taken us down many paths. At 19 during university I met Jason, who was 31, on a Red Sea diving liveaboard in 2000. After combining our love for diving and photography since childhood, during a decade of experiencing the world below the waterline, a change was eventually overdue. With a lifelong passion for taking pictures still in focus, we hung up the fins and decided on a big one.
Long story short, we finished working regular jobs, sold our cottage in the country and pared down the possessions to a few boxes – packing what we thought we'd need on two dual sport motorcycles. We've lived a few trips but this one took the prize. A life-changing adventure ensued lasting nearly five years. Taking in Antarctica to the Arctic, we motorcycled from the southernmost tip of Argentina to the top of Alaska, riding 80,000 miles through 21 countries.
What attracted you to the idea of mobile living?
Having learned to ride a motorcycle by accident in my early thirties – I won a two-hour taster session on a 50cc – playing house and working 9-5 wasn't unbearable, it just wasn't enough. We never defined success by our income or postcode, and neither of us seemed cut out for eternal domesticity, so we decided to live our life on the road.
I sourced Pearl, a factory-lowered BMW dual sports beauty on eBay. Mainly because I liked the colour; she matched my helmet much to Jason's exasperation. Amusingly, Jason utilised my bike as the pack mule and saved his for "tech" as he calls it – a camera, its lenses, and a drone. "If I want to be better wife material, this is how I do it," I thought as we rode onto the container ship albeit with the turning circle of a cruise liner.
What was your first mobile living experience like?
Minimal ride time under my belt required a giant leap of faith into the unknown. Still, being thrown in the deep end was my norm; not exactly a natural rider, I learned heuristically. Although it won't be shocking to learn that I sporadically refused to trust my steed in the soft stuff. Or, take Jason's sage advice and control at the reins. A bone of contention for him, which led to some initial discomfort. Such is life on the road when your riding skills differ. You get back on your bikes, and you ride it out together because you need to, and you want to. Quite the rollercoaster ride, it's the most empowering learning curve I've been on to date.
Magically, the bikes defined the trip, what we longed for, who we were. It's the gruelling satisfaction of big distance riding that made the journey hard but euphoric. It's the hard that makes it so great! Throughout long, beautiful days in the saddle, I adored how the motorcycles frequently magnetised people to us. You make contact, share, learn and grow. It's integral to what makes me happy.
Do youhave a bucket list of journeys you'd like to make and places to visit?
Sure, who doesn't? Greeland, the Stans, Mongolia, Nepal and Tonga to name a few.
What do you think other people should know about undertaking this type of lifestyle?
Many of us daydream about making a road trip across continents, although some might imagine they're unable to overcome the real or perceived hurdles. But what does it take to actually do it? Anyone whose jigsaw pieces in their life can coalesce – and respectfully, not everybody's can – simply a commitment to the decision to go is all it takes. Followed by doing whatever is necessary to make it happen. It sounds too easy, but in reality it really is! The hardest part happens right at the very beginning when you have to release all the things that hold you from doing it in the first place.
Having reached a point in our 9-5 lives that no longer reaped enough intrinsic reward, the time came for a change and we decided on a big one. Once we engaged in a 'It's time for a talk' chat, we pinned down a departure date, and the pieces began slotting into place. By "slotting into place," I mean it still took a degree of work but at least with every task and penny under our belts, we were one step closer to leaving.
Anything you think you'll miss about the home comforts will matter little and less when you start reaping the highs and phenomenal firsts. In fact, you'll probably start wondering if there's enough lifetime left to see and do everything the world has on offer. It's liberating as much as empowering.
How has this changed you?
Riding through the Americas has changed us, perhaps even ruined us where conventional living is concerned. During the trip, I decided against having a kid, which surprised the heck out of Jason. We want to see where an unscripted future takes us. Gratefully, we survived another lifetime together and acquired a priceless vault of memories in the process.
Every time I reflect on the trip, I feel happiness can be as simple as being warmed by the winter sun, dining al fresco on something locally sourced and delicious, then washing it down with a cold beer. Filled to the brim with that happy fatigue after a big hike in the backcountry. Or, making a connection with another human being – by merely dissolving into giggles with them. It's integral to what makes me happy, finding contentment in what I've got and sharing that life with someone. For me, that someone is Jason. My my best friend, sometimes my opponent, but always the love of my life.
What would you say to someone considering a lifestyle like yours?
Travelling has always been transformative; motorcycling the Americas – taking in Antarctica to the northernmost navigable road in Alaska – was pure frontier. Right now, there is nothing more appealing than staying self-sufficient in our truck with the ability to take off and come back to base. After loading up on gear and new aspirations, it's time to celebrate our good fortune – thankful to White Rhino for facilitating a new era: to stuff ourselves with everything an unscripted, four-wheeled life has to give.
What was the biggest mistake you've made so far on this project?
Since I don't need to pack so minimalistically in the truck compared to living out of two motorcycle panniers and a roll bag, I probably should have better adopted a 'less is more' approach. Namely, left a third of my storage space empty so I don't need to art-precision pack everyday. Or, discard excess items along the way but there's always fun in paying it forward and donating gear to someone else.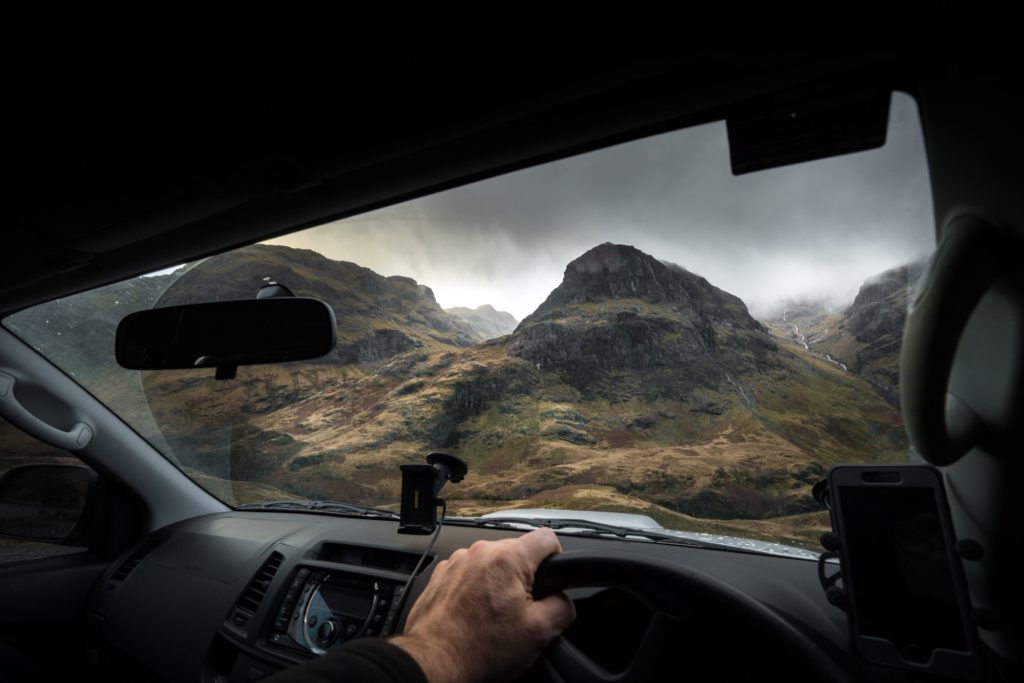 Dometic
When did you first hear about Dometic?
Years ago when a couple showed me their fridge/freezer in their Toyota Tacoma. Naïvely, I didn't think it was feasible to hook up something like that in a truck.
What Dometic products do you currently have?
Gratefully, we have a Dometic Portable CFX50 fridge, inverter and battery charger, PLB 40Ah handheld lithium battery pack, rear parking sensors with camera, and a rather snazzy media centre with GPS – complete with the electrical wiring by RV Installations.
Describe how you're currently using each Dometic product you have and why it's important for you to have?
As we've only taken White Rhino on a couple of dry runs before our big trip starts, we've yet to thoroughly utilise the Dometic ensemble.
What I can attest to is that it's one thing to keep it beautifully simple on two wheels with nothing but a double-walled water bottle to keep our liquids hot or cold for a day, but when you migrate to a 4WD, thanks to Dometic, we've entered a heightened world of self-reliancy. Your means multiply ten fold, and all at the push of a button. Gratifyingly, a total lifestyle change on the road has been bestowed on us. Namely through the ability to refrigerate our food in a portable CFX50 and keep it charged with a PLB 40 handheld Lithium battery.
In your opinion: what Dometic product is a must have?
As a couple that's spent years on their motorcycles, I'd say having the ability to see the space into which we reverse. Unused to White Rhino's long length, before the camera (and sensors) were installed, we routinely pranged the back bumper into rock walls, metal barriers and lamp posts…oops!
You cannot life without _____?
Incredibly, Dometic has supplied us with wall power. Whoa! Including a battery charger and sinewave inverter, which means we can stay somewhere remote for days on end without as much as paying a thought to the resupply. I still have to pinch myself that we're able to plug 240V appliances into mains electricity. What, I ask you, could be more civilised?
Why Dometic?
I think while I'll always reserve a special place in my heart for motorcycle travel, we've evolved after every trip and then prioritised our wants and needs for the next one. Although as long as you're out there doing it, is really what matters most. That said, Dometic has played a big part in making that comfort and lifestyle upgrade – simply, facilitating our means of staying location independent and in our happiest place.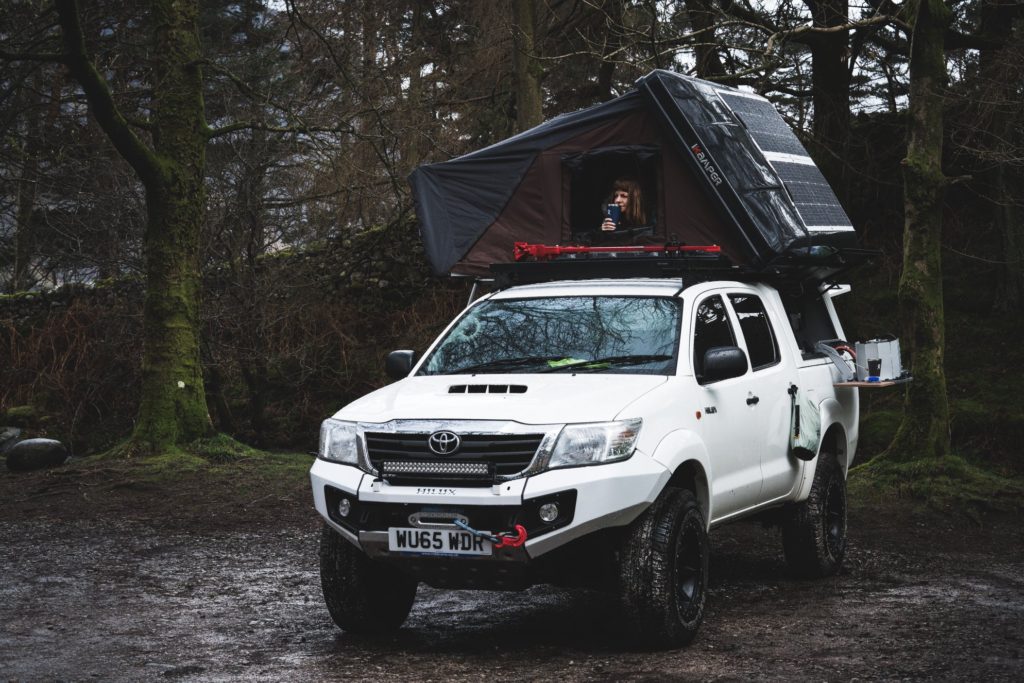 Van life
What's your favorite things about living #Vanlife?
The level of joy and splendour afforded by a rooftop tent, portable fridge and shower, solar power with lighting, a fold-out kitchen and drawer-loads of lockable storage on top, is bound to bring overlanding bliss.
Indeed, long distance biking dictated only the items that mattered; the multi-purpose and miniaturised. Everything packed was considered because space and weight came at a premium. Having mastered living on the road with only the essentials by living out of two panniers for as long as we have, the minimalistic mindset is unlikely to disappear. And that's a good thing. But the focus on what we don't need to pack becomes a new existence of what we'd like to pack.
White Rhino, our new beast – complete with all-terrain tyres, recovery equipment – should take us practically anywhere you can negotiate him through. The previous stresses sometimes incurred from contrasting riding abilities will be left behind.
Moreover, our backsides can kiss goodbye to saddle soreness. Instead, we'll emerge full of vigour after 300 truck miles. Such was life of feeling wiped out after a day's worth of situational awareness astride my motorcycle. Vulnerability induced excitement aside, you'll always be more at risk on two wheels than four among other road users.
Will I miss having rain- and humidity-obscured vision, cruise missile insects smacking my face at 50mph, raging winds and snow flurries that siphon all feeling from the fingers? I expect not. Kitted in just my regular clothing will be a strange one. I'm sure the idea of being protected, cocooned in air-conditioning, catered to, will grow on me.
What's the worst things about #Vanlife?
I expect on occasion, I'll still ache like crazy for my bike.
How long do you see yourselves doing this?
We'd planned circa 12-18 months for the Americas, but four and a half years elapsed so your guess is as good as mine.
What are your plans for the rest of the year?
As of mid-May 2019, the trip kick-starts in the inner Hebrides of Scotland. Venturing through Europe, you'll find us in Sweden early June and then at the Outdoor trade show in Munich, Germany by the end of the month. Scandinavia and Iceland will be calling thereafter!
How can we follow your journey?
Thanks, we'd love for you to follow us on Instagram and Facebook @fourwheelednomad
BIG love to you all.