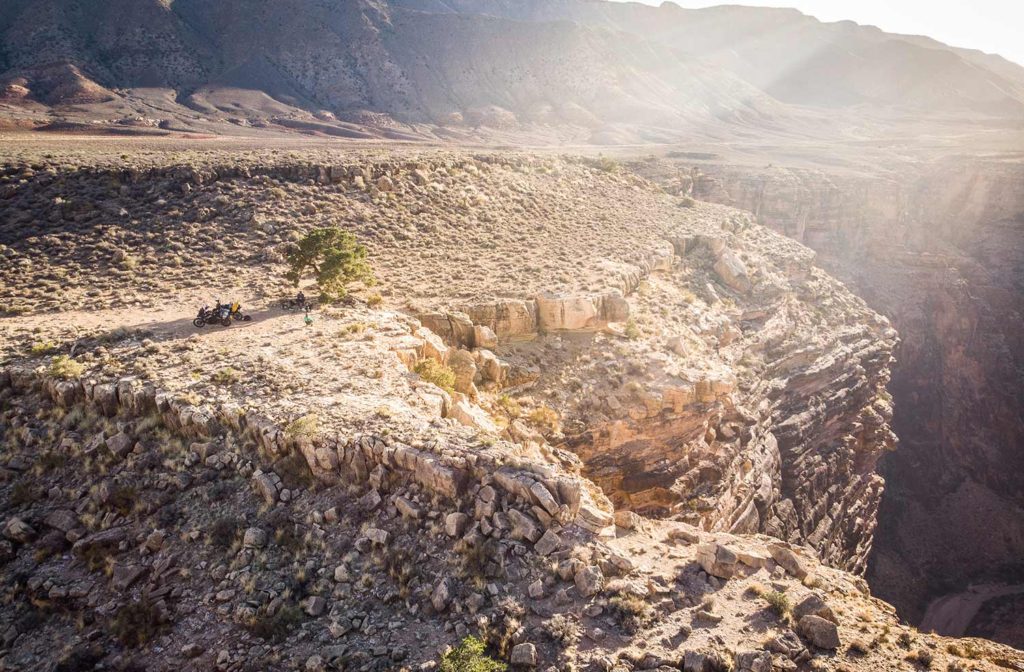 Zion National Park, Utah
"Climb if you will, but remember that courage and strength are nought without prudence and that a momentary negligence may destroy the happiness of a lifetime. Do nothing in haste; look well to each step, and from the beginning think what may be the end." Edward Whymper nailed it in Scrambles amongst the Alps.
Once home to the Paiute Indians, the hike up to Angel's Landing in Zion National Park was officially marked "strenuous". Add in steep, narrow and highly exposed with dizzying drop-offs on both sides; the five-mile uphill hike was going to twist my melon alright. Nightmarish I'd say for all acrophobes (those harbouring an extreme or irrational fear of heights), who despite the tens of thousands that have been before without incident, should stay away.
Zion is home to the world's densest concentrations of slot canyons, where the siren song of the abyss at Angel's Landing makes you uneasy at first. On edge. Its soul-gripping power makes your movements iffy, a little awkward to begin with, spasmodic even. But as the climb continues, you become more steadfast and used to the eventual white-knuckle-on-chain-contact anchored to the wall. I guess you get accustomed to rubbing shoulders with doom, and start to trust your feet and hands.
The anticipation ratchets up and up the closer to the lofty perch you inch. By and by your focus becomes so intensely honed that you no longer pay attention to your throbbing limbs and strained muscles. A hypnotic-like state settles over and soothes your concentration. The climb in your mind's eye becomes a lucid dream. The minutes glide by like seconds.

Such a course ensued until the final mile or so. Following feet was the next order of the day, maintaining a slither of personal space between all those in front of me and all those behind Jason. A challenge to achieve but the final ascent to the top wasn't an awful slog like I'd anticipated. Perhaps I'm fitter than I thought. No. The sea of bodies prevented such a hypothesis being proven, and we were in attendance before the park's peak season had kicked in.
It's really quite simple: the earlier you arrive, the fewer people you'll see. Indeed, it reaped dividends for us to get there at the crack of sparrows (7am at the bus stop), or would have done had Jason and I not opted to breakfast on burritos in the on-site cafe beforehand. It's 'First thing's first' not 'First thing's third'.
The collected jumble of daily existence—the lapses of kindness, the unanswered emails, the foregone conclusions and opportunity lost, the dust and dirt in your panniers, the unavoidable conglomeration of your genes—all of it is momentarily out of mind, mobbed by the magnitude of the endeavour underfoot when scaling the mountain to Angel's Landing.
At various moments something akin to happiness mingles with your being, but it isn't the kind of emotion you want to lead you astray. The ascent up to Angel's Landing—thrust into Zion Canyon from the West Rim—is an enterprise held together by putting one foot correctly in front of the other. Without any significant deviation along the narrow rock fin, which sharpens the mind and senses.
At the very top of the slender, monolithic peninsula, I'd gained almost 1,500-feet of altitude. Since dismounting the bike that morning, Refrigerator Canyon saw us tramp through a lush green oasis surrounded by sentinels of stone. Upon the red, buff, gold, black, streaked with charcoal desert varnish, tall as skyscrapers, the place had ignited a curiosity I didn't know I possessed.
Somehow, Zion sharpened the sweet ache of my longing to see it, amplified it, gave shape to it in geologic wonder and the clean slant of light. Beneath my Vibram soles inching towards the top of peninsula, the narrow ridge fell abruptly away into deep chasms on each side of its flanks. An alarmingly long way down either way.
Angel's Landing is a spot once described by a hiker as being so high and majestic, only angels could land here. Mmn. Below, a kettle of vultures soared above the bulging walls and towering spires in fiery Technicolor—looking for their next meal after a mother and 13-year old girl had recently slipped. Serious times. Once they have rolled in, they hang over you like low cumulus.
I have always struck myself as a reasonably sensible woman. Independent of mind, but not recklessly so. I had no business being at the edge, no one did. So why did I still hover and want to take a peek? That enduring outward-bound streak always gave me a thrill. You had to hand it to me, I thought: I had a knack for blind stupidity on occasion while losing any modicum of common sense. If I'd been a cartoon, the lightbulb over my head would have illuminated to step away.
Just looking at the sheer stonewalls of Zion, I was struck with a feeling of something much older and more important than humans and our endless array of baffling beliefs. Unlike Bryce, you are enveloped by Zion. From the valley floor, Zion swallowed me whole as a redheaded white spec in an unforgiving green sea, becoming smaller and smaller. Totally transfixed, would I ever see anything Zionesque again?
Fondly back in Flagstaff, AZ
Back with dear friends of ours Beth and Ken who hosted us in Flagstaff, their Arizonan home for a week or so. Like the last two times but in different seasons, the city was still bright, fresh and inviting. Most nights, we enjoyed tipping a glass or two and between the four of us, became incorrigible hams. Some people you just adore for life from the outset, this couple is one of those. A local hike with the pair one afternoon saw us discovering a trove of petroglyphs hundreds of years old and symbols decorating the rock walls. The creators of this rock art left their mark, which to this day nestle in the protective nooks.
Overland Expo West 2018, AZ
Think: a spot surrounded by mountains and ponderosa pine forests in the high desert of northern Arizona. Host to one of North America's most exciting margins of society, a large and lively overlanding event that pales many others by comparison. Overland Expo West is the gateway to a raw, transcendent experience for all things camping, vehicle and motorcycle. The resultant outcome? A grip wilderness on your imagination, the allure of overlanding activities that will leave your mind charged and body raring to go.
Indeed, it's a non-stop, one-stop shop for presentations galore by leading experts, authors, videographers and the like; must-do programmes for D.I.Y. adventures and world-class tutorials by well-travelled veterans, teachers and instructors. Roundtable discussions with seasoned overlanders; a multitude of demos in both the 4WD and moto-travel arenas; and don't miss the Overland Film Festival airing Jason's content among hundreds of amazing others plus the slideshows. All on the hour, every hour. Note to self: keep the schedule on your person.
Not to mention the vast trade show of vendors selling and showcasing every conceivable piece of overland-focused gear, equipment and other products and services in between, all of which gleam on the horizon for multiple square miles. At 7,000-feet, the air is as dry as chalk but don't let that put your lips off, there's complimentary chapstick and care package goody bags on practically every stand to keep your gums flapping all day and night. On top, food vendors and the bar will keep your strength up every minute of the day.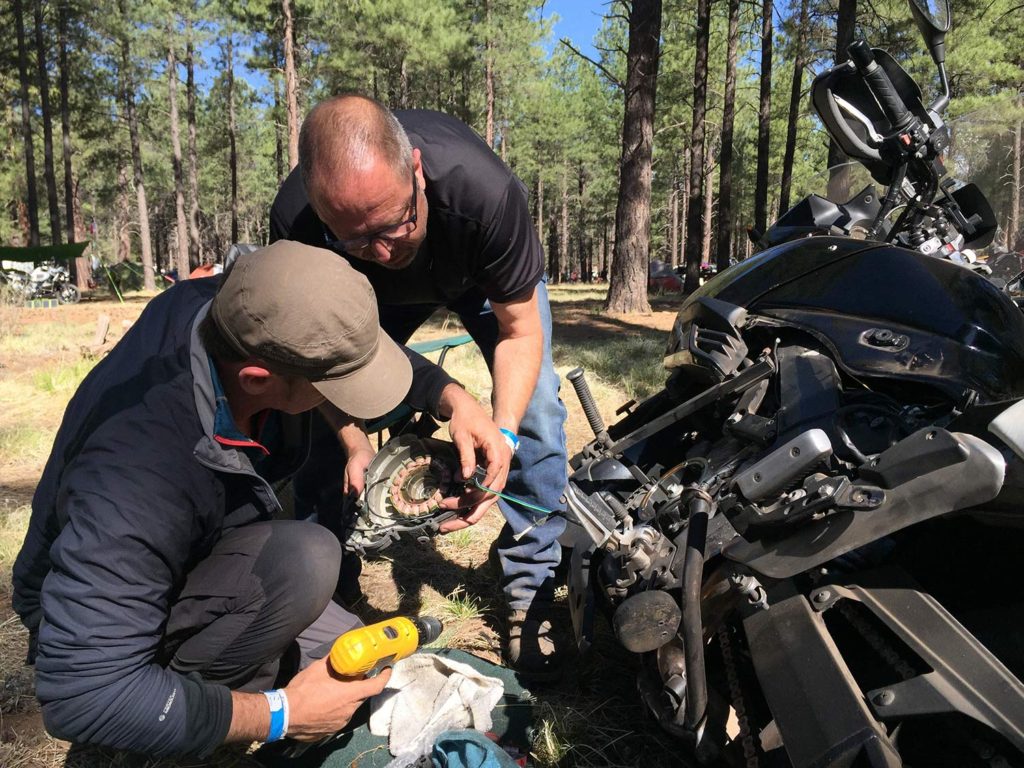 Soon into proceedings, my skin started to glow. From the intense UV rays at altitude or the buzz of beer, I wasn't sure but I radiated joie de vivre. I met new crowd after new crowd. The thrill of realising I was well-received, and looking around at the bright, smiling faces when I realised that life was good. Overland Expo will do that to a person. It's wonderful.
If you can't prepare for your near or faraway sojourn and get outfitted at this event, don't bother going outside. Heartwarming reunions and fast friendships underway, day one with the community was almost too much for me, but then I'm always being overwhelmed, I seem to crave it.
Just three days and nights will feed your hunger of spirit, a yearning you might not know you had. It did for me. And unexpectedly, therapeutic healing and spiritual solace sought me out, thanks to David Mays' (Health4Adv) skillset as a masseuse and Reiki healer. To allow the senses to flow unfettered is divine.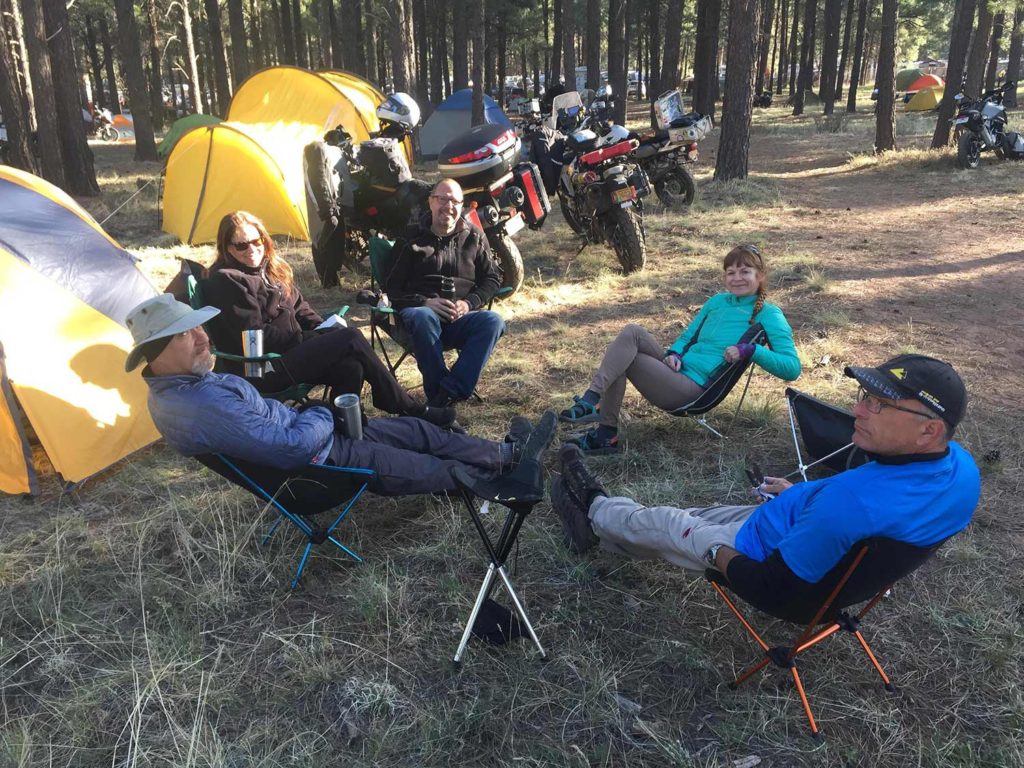 Grand Canyon National Park, Arizona
Tantalized by three friends independent of one another with a somewhat secretive spot, a little-known promontory on the south rim of the Grand Canyon awaited us. Set adrift in time and from the masses (that is, the 5-million usual visitors per year). Heck, we had ridden past this natural wonder of the world four times already! Timing issues, don't ask…
Having ridden for an hour on predominantly civilised, smooth dirt—a little lively in places with small stones and ruts but nothing outside the comfort zone—we thumbed over the 30-odd miles to get there. Just how hard could it be? I wondered—friends of ours had already been, "two-up" on their BMW R1200GS.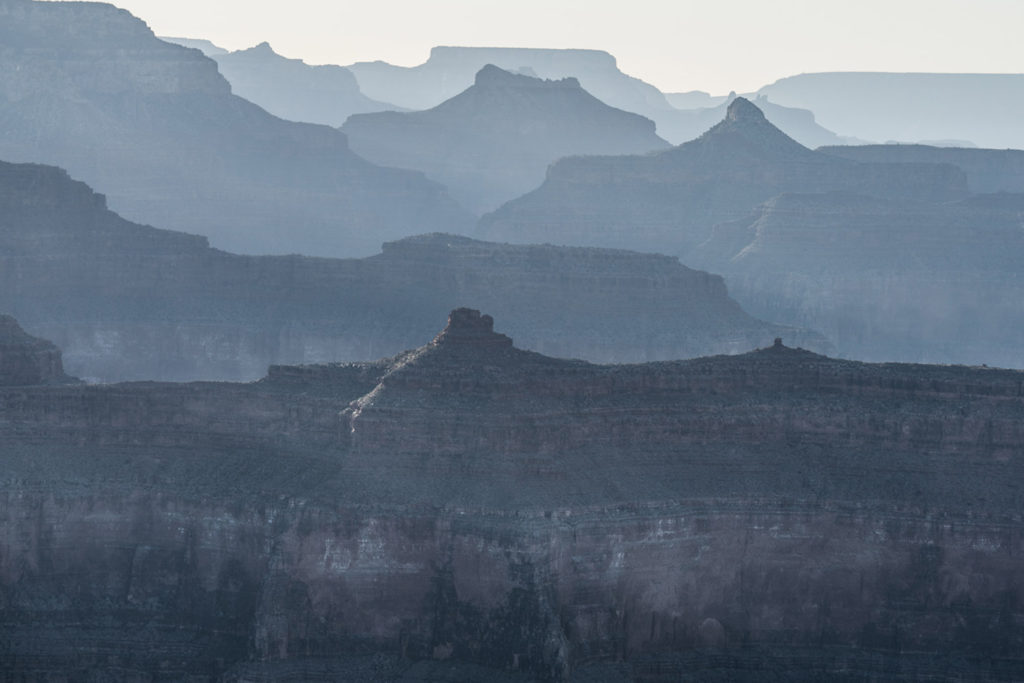 The first 20-ish miles of those 30 covered—the section between the pavement, and then six to seven miles on Supai land followed by a sharp turnoff—were reasonably gentle and relatively well-travelled. Not technical. The going never got exceedingly difficult, but the ruts if chosen to ride through, instead of over and in parallel invited laughter unbidden. The blessed grooves meant I got to paddle while giggling like a hyena. One of my favourite pastimes. But the final couple of miles had an utterly different character. Rocky and thick tree root climbing mostly.
Sights set unflinchingly on eating Ken's dust; fortunately, he took off ahead. Trying to keep up with someone getting their yah-yahs out from riding "one-up" instead of "two-up", I smiled to the foregone conclusion. But for me, balance, anticipation, patience. All vital. I'd read recently about kinesthetic sensation too, that is, the sense that helps us detect body position, weight, or the relationship between movements in our body parts. In short, it is the muscle sense: riding by the seat of your pants!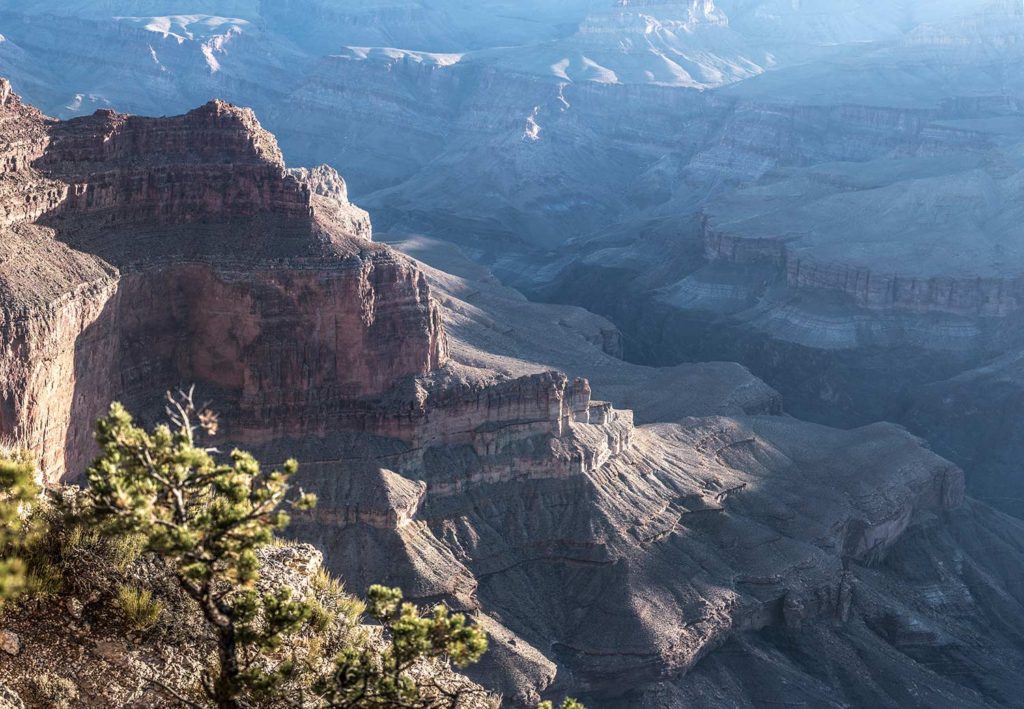 Everything I'd learned up on the pegs off-road in the last four and something years made sense, but none of it completely added up in my mind. Still, I am a darn sight faster and competent off-road than I was. "Gas gas!" It seemed only when I was in a state of fury did I break my own personal code and ride like a pro. That which is around me does not affect my mood; my mood affects that which is around me: a perfect summation from Garth Stein's The Art of Racing in the Rain. "Come on, Captain Slow, try and keep up with Ken." I demurred. He insisted. I acquiesced. Although Jase uttered my sobriquet more often in jest than with ridicule, he always falls in behind me so I could set the pace. Thanks, love.
Oh, my. I looked down at what was jaw-on-the-floor beautiful. I was at once elated and devastated where I couldn't have been in more of a hurry to dismount the bike. The one-mile deep canyon rose abruptly to form the phantasmal badlands of the Grand Canyon. There we sat, gazed and absorbed the essence of this unique place. Indescribable in the physical sense, because that would be like analysing Picasso's brush technique, but the overall effect, the awe it inspires and holds for you is there. Surrounded by low bushes and the comical scurrying of lizards, we threw the sleeping bags down on the floor and pinned them down from a brisk wind. Only the thrum of Ken's guy rope rattled by the wind interrupted the spectral quiet.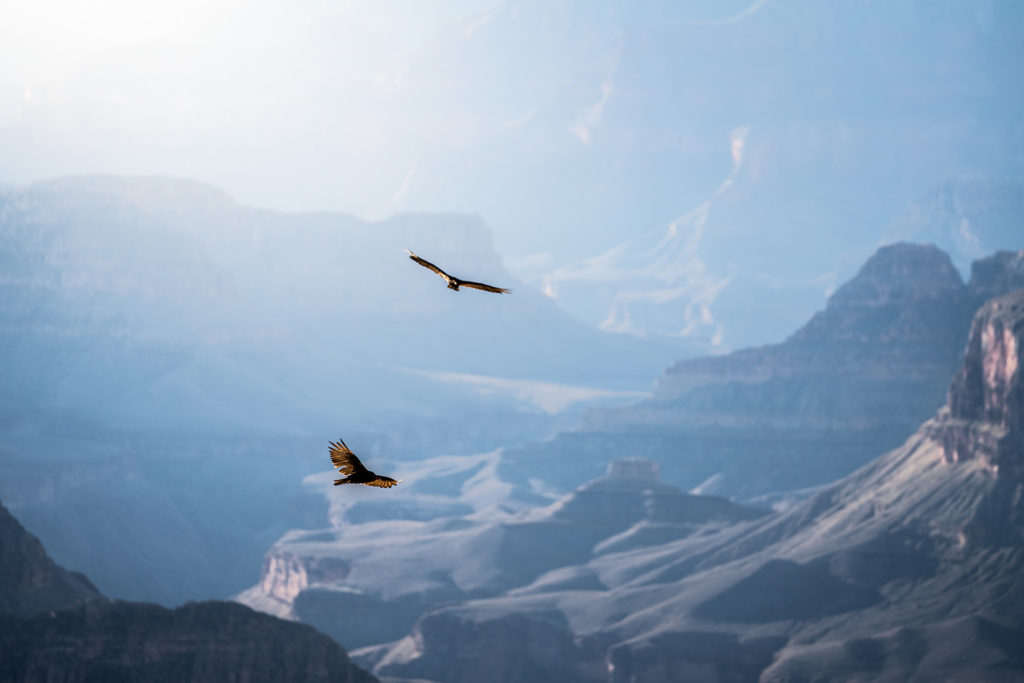 I communed with the canyon rather than critiqued it, sensing the totality of my focus. I did my best impression of an iguana: soaking up the last of the day's heat. And altogether, I felt unencumbered, liberated from my former life and thoughts, free to wallow in an unfiltered experience. The beer helped too.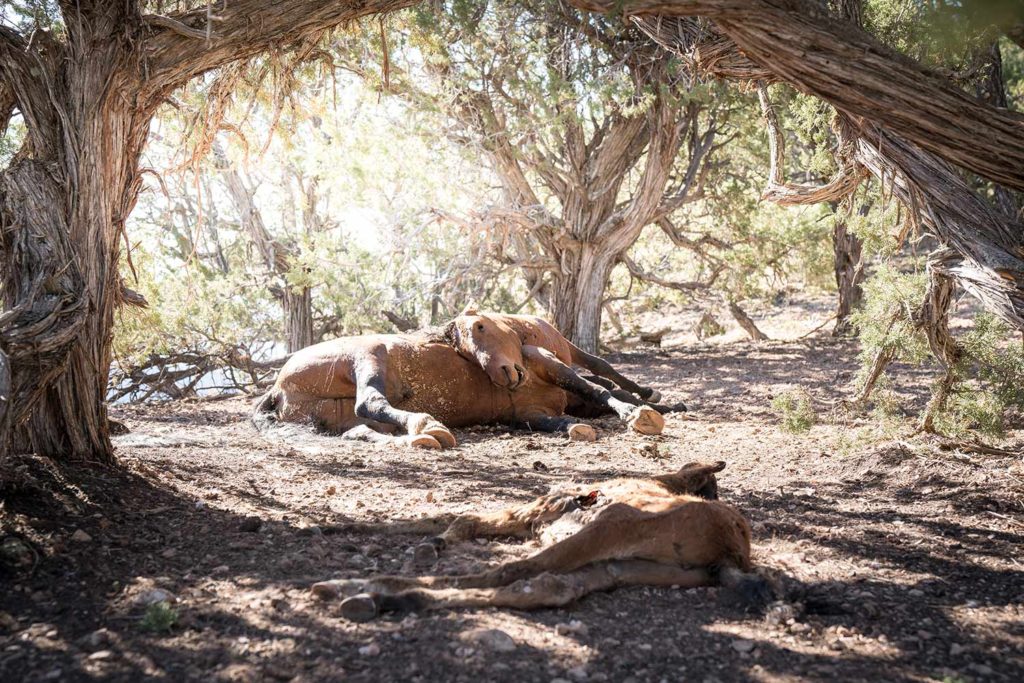 That is, until we encountered with the full clarity of horror five dead horses. All of whom had very sadly croaked it in a heap on top of each other from dehydration. Far from old or frail, all in their prime. Just a regular afternoon, but the soft hairs on the backs of my arms were up. The shock of the fallen beasts caught me unawares as if something seismic had been released inside me and was inching toward the surface. No mistakes had been made, misjudgments or poor decisions. It was just a confluence of circumstance landing them in this fatal position. And yet there was the Colorado River raging westwards below averaging 300-feet wide by 100-feet deep. Despite the bloated dead bodies, their mouths agape and the rancid stench wafting through Jason's and Ken's nostrils, it was a charmed place.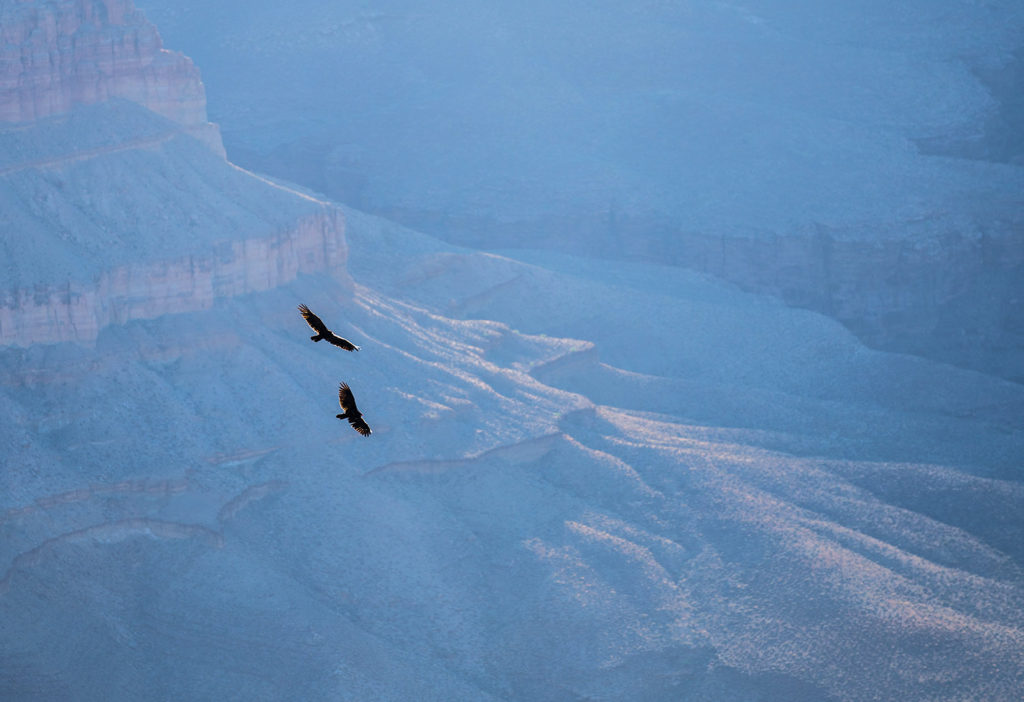 Grateful to possess no sense of smell, I couldn't help but feel antipathy for the lack of water in these parts and the local feeling of indifference towards the wild horses, flanking us on one side. No one seemed to care a hoof about them.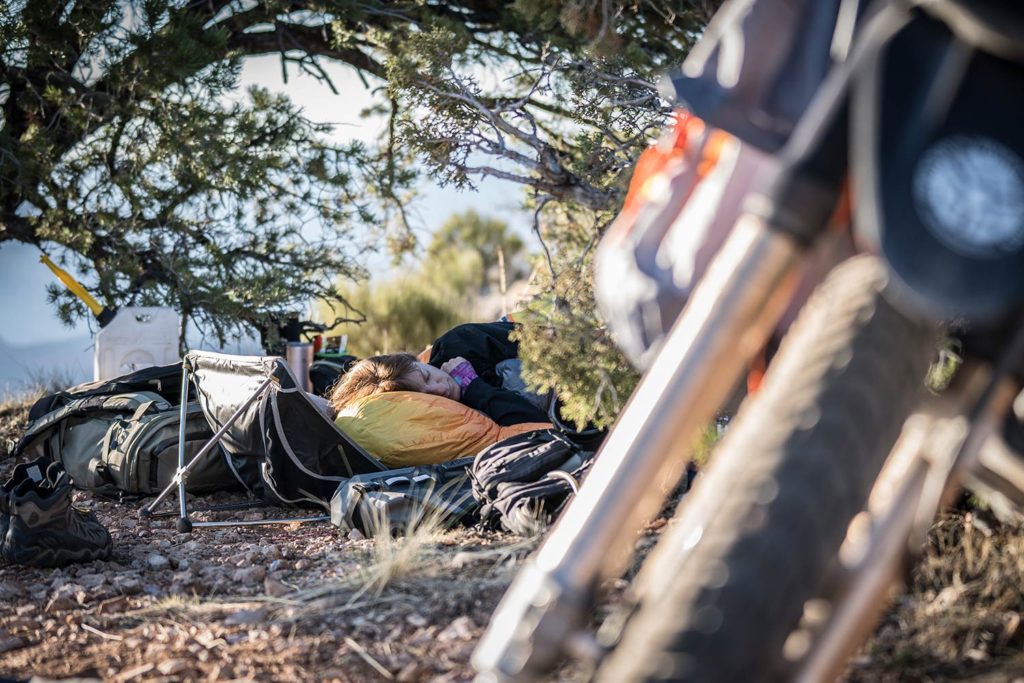 The night was bracing. I enjoyed the feeling of waning wakefulness as I breathed in through my nostrils. The energy of the place. Exhausted, I lay on the desiccated ground shortly after sundown, we made a mental note to report the horses to the park staff and the chap on duty (collecting $25 permit payments to cross tribal land) and slept hard. The Grand Canyon with Ken was one of the best of times. Really.